Genealogy of the Bridges Family


(version December 15, 2020)
Please email corrections to Mike Clark



>

---
Sarah Cloyes and the Salem Witch Trials
Sarah Towne (c.1638–1703) was the daughter of William Towne (d. 1673) and Joanna Blessing (d. 1682), who about 1635 sailed with several of their children from Great Yarmouth, England to Salem, Massachusetts. Sarah, who was baptized on Sept. 3, 1638 at the First Church Salem, was probably the youngest of at least eight children born to William and Joanna, and likely the only child of theirs born in New England. Although Jan. 11, 1637/38 is widely quoted as her birth date, we have never seen any evidence to confirm this. She married her first husband Edmund Bridges (c.1637-c.1682) on Jan. 11, 1659/60 in Topsfield, Massachusetts; and they had six children. Edmund died about 1682 in Essex County, Massachusetts; afterwhich Sarah married a widower named Peter Cloyes (1640-1708), with whom she had three or so more children, the first of these being baptized in September 1683, probably in Salem, Massachusetts.

Sarah and her family were living in the Puritan town of Salem in January of 1692 when 9-year old Betty Parris, and Betty's cousin 11-year old Abigail Williams - the daughter and niece of Reverend Samuel Parris - began to convulse unexplainedly and complain of being pinched and pricked by pins. These fits were said by some to be the work of demons, and resulted in three older women being accused of using witchcraft to torment the girls. One of these women was a South American Indian slave named Tituba, who belonged to Reverend Parris. When brought before the authorities on March 1, 1692 to answer charges of witchcraft, Tituba eloquently confessed to consorting with demons, and claimed that others like her were doing the same. This let loose a flurry of accusations that resulted on March 19, 1692 in Rebecca Nurse (neé Towne), the pious and respected 71-year old sister of Sarah Cloyes, being accused as a witch.
Rebecca's accusers were the brothers John and Edward Putnam, whose family held a grudge against Rebecca's family. When Topsfield was incorporated into a town in 1650, the boundaries between Topsfield and neighboring Salem were poorly defined. This led to a boundary dispute between the allied Towne and Easty families of Topsfield versus the Putnam family of Salem, in which each accused the other of trespassing and stealing timber from the land in question. When a land court in 1687 officially defined the boundary between the two towns, the ruling was to the benefit of the Towne and Easty families and the detriment of the Putnams. However, the feud between them continued even after the ruling, and the Putnam brothers may have used their accusations of witchcraft to seek revenge against Rebecca and her siblings.
When Reverend Parris on Easter Sunday, March 27th delivered a sermon in the Salem meeting house on the "dreadful witchcraft broke out here", Sarah supported her accused sister by walking out on the sermon, and slamming the church door behind her - which was unheard of in Puritan times. She then spoke on April 3rd in defense of her sister, only to find herself accused of witchcraft the next day. She was named in warrants, and arrested and jailed in Salem on September 8th and 9th "for certain detestable arts called witchcraft and sorceries, wickedly, maliciously and feloniously hath used practiced and exercised... in, upon and against one Rebecca Towne of Topsfield ... and also for sundry other acts of witchcraft." The so-named Rebecca was Sarah's niece, the daughter of her late brother Edmund Towne. There other accusers, including 12-year old Ann Putnam, a niece of the above-mentioned Putnam brothers, and 16-year old Mercy Lewis, whose paternal aunt was Sarah's sister-in-law Susanna Cloyce. Some of these girls reportedly had been reprimanded a time or two in the past by either Sarah or her sisters.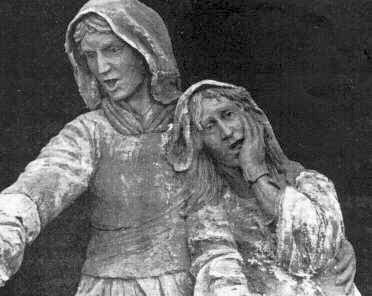 Sarah on April 11th was brought before the court to answer to charges of practicing witchcraft, but she refused to confess, and facing one of her accusers called him a "grevious liar" - the accuser being John Indian, husband of the accused witch Tituba. Sarah was sent that night to a Boston prison, where her sister Rebecca was already being held. Even though Sarah was locked in a cell ten miles away, two of her accusers - Reverend Parris' niece Agibail Williams, and Abigail's cousin Mary Walcott - claimed that images of Sarah's spirit came to them in visions to torment them and others. This form of testimony was known as "spectral evidence", and it was very controversial as many recognized that such visions might be imagined or faked. Sarah and Rebecca were soon joined in prison by their sister Mary Easty, who was arrested and examined on April 21st for bewitching their niece Rebecca Towne - spectral evidence being the basis of the accusations against Mary.
Rebecca Nurse was excommunicated from the church, and executed by hanging on July 19th, afterwhich her sisters Sarah and Mary petitioned the court to present evidence to support their innocence, and for the exclusion of spectral evidence (i.e., testimony that a vision of someone's spirit could torment another from afar). However, nothing came of their requests, and the court on September 22 executed Mary by hanging. Sarah remained in prison awaiting her fate, until December 1692 when the indictments against her were declared "ignoramus", meaning the evidence was insufficient to try her. Then the court on January 3, 1693 dismissed all charges against her. However, her husband Peter still had to pay the fees for her release, as was customary for those days. Sarah and Peter immediately relocated to Salem End (West Framingham), where they changed their last name to Clayes, presumably to escape the stigma of the witch trials.
There is a story that once circulated among the residents of Framingham that Peter Clayes never actually paid for Sarah's release from prison, but instead engineered her escape with the help of Thomas Danforth, who was Deputy Governor of the Massachusetts Bay Colony during the early months of the Salem witch hysteria. Temple (1887, p. 125) writes that,
"In August, she [Sarah Cloyes] was committed to the jail at Ipswich, to await execution. Her husband was allowed to visit her in prison, and spent much of his time there. And in some way she found means to escape, and was concealed by her friends, till the removal to Framingham, the next spring. As the witchcraft frenzy abated in the fall of 1692, probably the authorities were not anxious to recapture the fugitive."
Because Tituba, the star witness of the witch trials, had confessed to witchcraft, she was never tried. And when the witch hysteria began to die down, she recanted her testimony, saying that Reverend Parris had beaten her and told her to confess. Her examiners subsequently refused to indict her, writing "ignoramus" on her paperwork, meaning as before that there was insufficient evidence to try her. Reverend Parris, angry that she recanted her confession, never paid the fees for her release, so she languished in prison many months more before someone, probably her husband John Indian, paid the court in the Spring of 1693 to release her. So the first to confess, was the last to be freed.
The court by the Fall of 1693 banned the use of spectral evidence, which made most of its past accusations and judgements baseless. This soon brought the witch trials to an end. Reverend Parris, whose sermons encouraged the trials and endorsed spectral evidence, found charges brought against him by his parish for his role in the trials. Forced to account for his actions, he presented an essay in November 1694 titled Meditations in Peace, in which he apologized for what he had done. Nonetheless, his congregation ultimately ceased to pay his salary, and eventually forced him to resign. He relocated in 1697 to Boston, and died in 1720 in nearby Sudbury, much despised by many, yet vindicated by a few.
Sarah spent her remaining years trying to clear the names of her sisters, but she did not succeed in her lifetime. She died about 1703 in Sudbury, Massachusetts, exactly when is not known, and her place of burial has never been found, the family choosing to keep it secret. Ann Putnam, one of the more active accusers of Sarah and her sisters, recanted her testimony not long after Sarah's death by publically confessing in church on August 25, 1706 that, "I was a chief instrument of accusing of Goodwife Nurse and her two sisters [including Sarah Cloyce]. I desire to lie in the dust, and to be humbled for it, in that I was a cause, with others, of so sad a calamity to them and their families." Outcry against the witch trials continued to grow in the following months, and both of Sarah's sisters in time were declared innocent. The Salem Towne Church in 1712 also reversed its sentence of excommunication on Sarah's sister Rebecca, as they no longer wished "to reproach her memory nor give grief to her children". The family is said by some to have reconciled with Ann Putnam, but never forgave Reverend Parris.


---
REFERENCES:
Bridges Family Genealogy
The documentation for many of the dates and places listed in this history are found in the Ancestry.com online databases (subscription required).

Anderson, Robert Charles (1995), The Great Migration Begins: Immigrants to New England, 1620-1633, New England Historical and Genealogical Society, Boston, v. 1, p. 389-392 & 705.

Cutter, William Richard (1908), Genealogical and Personal Memoirs Relating to the Families of Boston and Eastern Massachusetts, Lewis Historical Publishing Company, New York, v. II, p. 1012.

Grave and burial locations where known are listed with tombstone photos (when available) on

Senger, Clyde M. (1986, 1993), "Notes on Edmund BRIDGES of Massachusetts and Some Descendants", compiled Nov 1986 and Sept 1993, and appeared April 2001 on the internet at Genealogy.com. These notes still existed in 2012 on the internet, but they no longer seem to be available.

Temple, Josiah H. (1887), "History of Framingham, Massachusetts, 1640-1885. A special Centennial year reprinting of the 1887 edition", New England History Press, 1988, p. 124-125, 162-163, 481-484, 507-510 & 653-655.

Towne Family Association has been around since 1980 and has a website with lineages contributed by subscribing members. This includes lines of descent from Edmund Bridges (d. 1682) and Sarah Towne (d. 1703). However, a subscription is required to view anything of interest, and it seems like a lot of the information in these lineages is unverified. Last accessed 30 June 2018.
Sarah Cloyes and the Salem Witch Trials