Genealogy of the Hassler Family


(version November 27, 2022)
Please email corrections to Mike Clark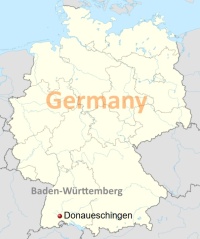 Hassler is a common family name in the southern Black Forest region of Germany, and it is also found in many German-speaking communities located just across the nearby French and Swiss borders. One branch of this family resides in the town of Donaueschingen, which is located in the southernmost part of the German State of Baden, and is so named because the town sits at the confluence of the two main tributaries of the Danube River (the location of the town is shown on the map at right). The birth, marriage and death records of several generations of Haesslers are preserved in the Catholic Church of Donaueschingen, and serve as the primary source for the early part of this family history.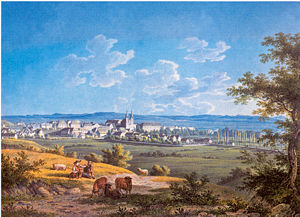 The town of Donaueschingen in 1827
Anton (Bernhard) Haessler was probably born somewhere in Baden, Germany in the late 1700s or early 1800s, and married Maria Anna Simon. The uncertainty over his exact name is due to the fact that the marriage record for his son Josef gives the name of Josef's father as Bernhard, whereas Josef's death record lists his father as Anton. Both records have the same birth date for Josef, and list his mother as Maria Anna Simon. The name Bernhard only appears in the one document, whereas many sources record the name of Anton Haessler, husband of Maria Anna Simon. Many girls in Donaueschingen in the early 1800s had the name Maria Anna Simon, so it is impossible to identify records for Anton's (Bernhard's) wife prior to their marriage. Also, there does not appear to be a baptismal record for Anton (Bernhard) in the town church, which indicates that he may have been born in another village. However, Anton (Bernhard) and Maria were residents of Donaueschingen by Oct of 1821, when their first known child Maria Ursula Haessler was baptized there. Thus, we can assume an approximate marriage date of 1820 for them, but we do not know where they married. Anton and Maria had 14 or more children, according to the Donaueschingen baptism records, but most of them died as infants. Listed below are the five children known to have survived into adulthood.

children - HAESSLER

Maria Ursula Haessler (1820-1893) was born in 1820, according to her probable tombstone, and church records show that she was christened on Oct. 1, 1821 in the Catholic Church of Donaueschingen, Baden, Germany. She is shown in many family trees, but with no documentation for the date, to have married a Frenchman named Meinrad Fix (1818-1897) on July 9, 1843 in Monroe County, Michigan. A Mary Fix, wife of Monrad Fix, subsequently appears in the 1850 through 1880 U.S. Census returns for Frenchtown, Monroe County, Michigan, with Baden given as her birthplace in the 1870 and 1880 returns. This Mary Fix died on July 12, 1897 in Frenchtown, and she is buried nearby in Saint Joseph Cemetery. Her tombstone shows her middle initial as U, and an obituary in the Aug. 15, 1893 issue of the Monroe Democrat gives her maiden name as Ursula Heisler, who died at the age of 73 years, which is the main evidence for connecting her to Maria Hassler of Baden.

Joseph Haessler (1823-1866) who follows:

Maria Haessler (1828-?) was born and christened on April 9, 1828 in the Catholic Church of Donaueschingen, Baden. She married Hermann Limberger (1829–1857) on Aug. 14, 1851 in Donaueschingen, after which we lose track of her.

Anton Haessler (1835-1871) was born and christened on Jan. 22, 1835 in the Catholic Church of Donaueschingen, Baden. He married Martina Egi (b. 1839) on Oct. 29, 1860 in Donaueschingen; and died on Dec. 27, 1871 in tha same town.

Anna Ursula Haessler (1839-?) was born and christened on Aug. 29, 1839 in the Catholic Church of Donaueschingen, Baden. She married Anton Fischer (b. 1841) on Aug. 8, 1861 in Donaueschingen, after which we lose track of her.

Joseph Haessler (1823-1866), the son of Maria Anna Simon and Anton (Bernhard) Haessler, was born and christened in Donaueschingen, Baden on Feb. 10, 1823; and married Maria Anna Fink (1822-1886) on Oct. 13, 1853 in the Donaueschingen Catholic Church. Maria, who was born on April 28, 1822 in the nearby town of Fützen in the Waldshut district of Baden, was the daughter of Gallus Fink (1774-1834) and Elisabeth Wagner. Maria and Joseph had four children before Joseph died on March 24, 1866 in Donaueschingen, where he is probably buried in the church cemetery. His wife Mary subsequently decided to emigrate with her children to the United States, and her story continues below.

Mary Hassler (1822-1886), the widow of Josef Haessler, decided after the death of her husband to seek her fortune in the United States, and she sailed with her four children around the the Cape of Good Hope in 1868 to arrive in California. It likely that her younger brother Charles (Gallus), who had been in California since 1849, and in the United States since 1848, brought her and the children with him back to the States following a visit he had made to see his birthplace in Germany after an absence of twenty years. She ended up in the Diamond Springs township, probably in or near Newtown, where Charles, another younger bother named John (Joannes), her mother Elisabeth Wagoner, and her stepfather Joseph Miller all lived, the four of them having arrived in 1849 on a wagon train. Her sister Paulina Snow was there in Newtown also having arrived in the spring of 1850 with her husband Samuel.

Maria dropped the first "e" in her last name upon arriving in the States, and changed both hers and her children's first names to american versions. They settled in Diamond Springs, and Maria after a few years on Aug. 28, 1874 married a Swiss miner in Placerville named Felix Mulli, who had arrived there during the Gold Rush. Felix was evidently prosperous as in 1865 he had bought from the Marple brothers a plot of land known as the Johnson Ranch (SE/4, sec 27, T11N, R11E), a 160-acre homestead located six miles north of town and next door to the Toombs ranch in White Rock Canyon. Although Felix and Mary set up house there after their marriage, Mary appears to have kept her Diamond Springs place, probably so that her son Antone, who was working at the Caldor (California Door) factory in Diamond Springs, could continue to live close to his job.

As a side note, the Johnson Ranch that Felix bought had originally been owned by John Calhoun Johnson, who played a prominent role in the El Dorado Indian War of 1850-51, and was responsible for blazing a trail connecting Placerville with the Carson Valley in Nevada. This trail, known first as Johnson's Cut-off, later became the first State Wagon Road, and largely follows the route of modern Highway 50.

Felix Mulli (c.1820-1879), the second husband of Mary Hassler, was born about 1820 in Switzerland and arrived in the United States on July 31, 1846 aboard the ship Susan Drew, which sailed from Le Havre, France. He appears in Pennsylvania in the U.S. census of 1850, and then apparently made his way to Sacramento, California where he married his first wife Magdelana Sieber (b. about 1816) on January 1, 1859. The 1870 census, which lists Felix and Magdalena with the last name of Maley, indicates they may have had a son named Henry Mulli, who would have been born around 1855. However, there is no further mention of him, which indicates he may have died, or left town for parts unknown. Magdalena died on Dec. 5, 1873 in Placerville, and is buried in the Placerville Union Cemetery.

Felix died on May 24, 1879 in Placerville, and is buried in the Placerville Union Cemetery, his grave now marked by a broken tombstone. His second wife Mary Hassler inherited his property, the Johnson Ranch, but only after the inheritance issue was settled in the Placerville Superior Court on July 21, 1884. Felix' Mulli's will, the original of which is in the El Dorado County Museum, was written on the day of his death, signed by Felix with three X marks, indicating that he did not read nor write, and witnessed (and was possibly written) by William "Honest Billy" Toombs, who was related to Felix's widow Mary by marriage. When Felix's brothers Heinrich and Matthias in Switzerland (Zurich?) learned the details, they contested the will, disputing both the validity of the will and the legality of Felix's marriage to Mary Hassler. His widow Mary, in return, contested that Heinrich and Matthias were actually Felix's brothers. Ultimately, the court decided in Mary's favor - one suspects due to the involvement of "Honest Billy", who testified during the proceedings. Mary then sold the house to her son John (from her first marriage to Josef). However, legal issues regarding the property continued until at least 1915, before the title became free and clear.

Mary died without leaving a will on November 10, 1886, probably at the Johnson/Mulli ranch, and was buried in the Placerville Union Cemetery, where her tombstone reads, "Mary Hassler | Mother of Antone, John, Mary and Joe". The children of Mary Hassler and her first husband Josef are listed below.

Mary C. Hassler (1884-1904) was born on Dec. 2, 1884; and died without issue on March 1, 1904 in Oakland. She is buried in St. Marys Cemetery.

John Francis Hassler (1886-1954) was born on Oct. 14, 1886; and married Marjorie Elizabeth Lewis on Jan. 14, 1914 in Oakland, Calif. He served as City Manager of Oakland from 1933 to 1954, except for a stint in the military from 1943-1946. He died on Aug. 19, 1954 in Alameda, and he is buried with his wife in St. Marys Cemetery in Oakland. They have descendants.

Anton Joseph Hassler (1889-1973) was born on March 21, 1889 in San Rafael, California; and married Antoinette Zavaterro (1899-1999) on April 4, 1921 in Alameda County. He died on Oct. 29, 1973 in Emeryville, Alameda County, Calif. He and Antoinette have descendants.

A stillborn infant (1890-1890), who was born May 6, 1890, and is buried in St. Marys Cemetery.

Thomas Vincent Hassler (1893-1930) was born on Feb. 28, 1893; and died on Nov. 29, 1930 in Alameda. He is buried in St. Marys Cemetery with other members of his family.

Maria Agatha Haessler (1857-1933), who was the daughter of Josef Haessler and Maria Anna Fink, was born on Nov. 12, 1857 in Donaueschingen, Baden, Germany, and christened there a few days later on Nov. 19 in the local church. She changed her name to Mary Hassler when she immigrated in 1868 with her family to the United States and settled in the gold-mining town of Placerville, where several members of her mother's family were already living. She married a young miner named William Louis Toombs there on April 24, 1879 at St. Patricks Catholic Church on Sacramento Street. Her husband's family was well known in the town, as his fahter William "Honest Billy" Toombs had come to California during the Gold Rush of 1849 and settled at White Rock Canyon on the outskirts to the northeast of Placerville. Interestingly, Mary was counted twice in the U.S. Census of 1880, once with William at his Placerville house, and again at her mother's place in nearby Diamond Springs.

Mary moved in with William and some of his family at the Toomb's ranch, and they raised their children there for the next several years. However, she eventually desired a better place to raise her family, so she and William sometime after April of 1902 moved most of their family to Alameda, on the bay side of Oakland. Only their oldest son Frank stayed behind at the Toombs Ranch to continue running things there. Mary also wanted to move to Alameda because her brothers Joseph and Anton both lived there, with Anton originally coming many years earlier to work as as a superintendant for the California Door Company (Caldor), and Joseph coming in the late 1880s to open a candy store. Thus Mary reunited with family, and she probably felt that Alameda provided not only better schools for her children, but also more future job oppotunities for them than the mines of Placerville.

Mary and William about the time of their 1902 move to Alameda partnered with Mary's unmarried younger brother Joseph to buy a grocery store in Alameda from Dora Lucinda Shead. Joseph had previously boarded with Mrs. Shead at the store, and worked there for her as a clerk. This store was located in the 1900 Census at 1519 Webster Street, then the 1902 Alameda City Directory shows it at 846 Railroad Avenue, which was so named because the trolley car ran down the middle of the street. However, the street was renamed in 1907 to Lincoln, and some of the street numbers may have changed in the process. The Toombs are then shown in the 1903 city directory as proprietors of a fruit and produce market at the 846 address, with the family residing at the same address, probably either upstairs or in the back part of the building. No doubt the living quarters there were cramped for so many people, so they moved by 1905 to a house located at 714 Railroad (Lincoln) Street, which is just a few doors down from where the store was.

William was still living in the early part of 1907 with his family in Alameda, but he returned in September of that year to Placerville. Although he and Mary did not live together again, they never divorced. William went back to panning the same gold streams, and digging the same mines that his father had worked since the 1849 Gold Rush, while Mary ran the Alameda store with her brother Joe. She retained a one-quarter share in some of William's mining operations, but it is unlikely that she realized much income, if any, from these ventures. Mary's brother Joe is found most of this time residing in a separate apartment/building in the backyard of Mary's house, where he ran a photography studio, and worked part-time as an agent selling motor cars. Mary and Joe also took in renters and ran a boarding house out of their Lincoln Street home during the Depression years of the 1920s and 1930s to bring in extra income.

Mary died on July 31, 1933 in Oakland, and she is interred there at the Chapel of the Chimes Mausoleum in the same annex as her bother Joe, and grandson Kenneth Toombs. William died on May 2, 1938 in Placerville, and he is buried there in the old Union Cemetery. Joe continued living at Mary's house until 1947, when he was hospitalized after taking a fall out on the street. He died on Jan. 28, 1948 at an Alameda rest home, and his ashes are interred near those of Mary. For the children of Mary and William, please see the Toombs Genealogy.



William L. Toombs and Mary Agatha Hassler
---
The Descendants of Gallus Fink
Gallus Finck (1774-1838), the son of Petrus Finck (1721-1806) and Agatha Gleichauff (1745-1796), was christened, and probably born as well, on October 15, 1774 in the town of Fützen in the Waldshut district of Baden, Germany. Fützen is located only 2 km from the German-Swiss border and about 20 km south of the town of Donaueschingen, where the Finck family lived. Gallus married Elisabeth Wagner (1795-1870?) on June 2, 1817 in Fützen. Elisabeth, having been baptized on May 6, 1795 in Hondingen, was 20 or so years younger than her husband. He is probably the Gallus Finck who either died and/or was buried at the age of 64 on Jan. 30, 1838 in Fützen, but this is not known for certain.
Gallus' widow Elisabeth married her second husband Josef Mueller on Nov. 5, 1840 in the Fützen Catholic Church. Josef was several years younger than Elisabeth, having been born on Oct. 16, 1817 in Wildtal, Baden, Germany, and he was baptized there the next day to parents Mathias Mueller and Maria Eva Gehri. He and Elisabeth subsequently emigrated in 1848 to the United States with Elisabeth's two youngest sons - Joannes (John) Fink and Gallus (Charles) Fink - and crossed the plains in an ox-drawn wagon with a wagon train in 1849 to arrive in Placerville at the start of the Gold Rush. We then find the four of them during the State Census of 1852 living in the settlement of Newtown, to the southeast of Placerville in the Diamond Springs Township of El Dorado County. Elizabeth and Joseph then published a declaration of intent, dated Nov. 25, 1856, to open the "Joseph Miller Livery Stable" in the nearby community of Grizzly Flats. Elisabeth's daughters Paulina in 1850 and Sophia in 1856, with their husbands, joined their mother in the Placerville area, and a third daughter Maria joined them in 1868, two years after the death of her husband in Germany.
Elisabeth's husband Josef changed his name to Joseph Miller, and became a citizen on May 11, 1859 at the Placerville District court. He then became postmaster of Newtown on Dec. 7, 1864, a position that he held for almost eleven years. The U.S. Census shows that on August 16, 1870 Elizabeth was still alive and living with Joseph in Newtown. Then there is an online genealogy, written in German by a German descendant, that gives 1870 as her death date, and California as where she died, but provides no evidence. It is likely that she is buried in the Pleasant Valley Cemetery, which is only two miles from Newtown and is the final resting place of two of her children. However, if she is there, there is no record of her burial that we have found, and her grave is no longer marked by a tombstone.
Joseph Miller continued to reside in Newtown at least until Sept. 23, 1875, when he stepped down as postmaster. He is shown in the voter registration records (Great Register) for El Dorado County as residing in 1882 at Sportsman's Hall (Twelve-mile House), which is a former settlement to the east of Placerville that is known today as Pollock Pines. Then the Great Register for 1892 shows him as Joseph Muller on Pacific St. in Placerville proper. Although this is the last confirmed mention we have of him, we suspect that he may be the Joseph Miller who is mentioned in an Aug. 10, 1895 newspaper article in the Placerville Mountain Democrat as being a resident in care of the local hospital. If so, then 1895 may be his approximate year of death.
Elisabeth Wagner with her first husband Gallus Finck had the children listed below, all of whom were baptized in Fützen in the Catholic Church, which contains records of the Finck family dating back to Johann Finck (b. c.1680) and Katharina Gleichauf (b. c.1680), who are the grandparents of Gallus Finck. A biography of Charles Fink, son of Gallus and Elisabeth, states that when Elisabeth crossed the plains in 1849 with Josef Miller, she brought three daughters with her. However, the documentation we have seen seems to indicate that these daughters were not in the wagon train of 1849, but came later - Paulina in 1850, Sophia in 1856 and Maria in 1868.

M. Catharina Fink (b. 1819) was christened on June 1, 1819 in Fützen, Germany. As nothing further is known of her, she may have died young or unmarried.

Josephus Antonius Fink (1820-1896) was christened on July 13, 1820 in Fützen, Germany; and married Maria Agatha Meister (1830-1899) on February 27 1851 in Fützen. He died on Sept. 11, 1896 in Germany, where his descendants, the Röthenbacher family, live today. His wife Maria, who had been born on Sept. 1, 1830, died on Aug. 15, 1899 in Germany.

Maria Anna Fink (1822-1886) was born and christened on April 28, 1822 in Fützen, Germany; and married Joseph Haessler (b. 1823) on October 18, 1853 in the Donaueschingen Catholic Church. More information on her is given above under the above subheading for "Mary Hassler (1822-1886)".

Sophia Fink (1824-1893) was born and christened on April 9, 1824 in Fützen, Germany; and married Johann Maier/John Meyer (1818-1871) on Nov. 5, 1846 in Fützen. Sophia and John came with their four children in 1856 to the United States, made their way to California by way of Connecticut, and joined Sophia's mother and two brothers in Pleasant Valley, El Dorado County, where they had more children and lived out the remainder of their lives. John died on Aug. 29, 1871 and Sophia on Oct. 15, 1893 in Pleasant Valley. Both are buried in the Pleasant Valley Cemetery along with other members of the Fink family.

Paulina Fink (1827-1882) was christened on June 23, 1827 in Fützen, Germany, and at some point left Germany and came to the United States, where she married a German-Jewish emigrant named Samuel Sussman Snow (1818-1892). Paulina's husband had been born on March 18, 1818 in Germany; and left home when his widowed father married a woman that the younger Snow did not like. He ended up by 1837 in New York City, where he obtained a medical degree, and married Paulina, a catholic girl who, like Snow, had been born in Germany. He and Paulina around 1842 settled in St. Croix County, Wisconsin, where Samuel for the next few years is said to have both practised medicine and traded furs with the Indians, and where on July 30, 1849 he received his papers to become a U.S. Citizen. He and Paulina then tried living on a ranch in Council Bluffs, Iowa, but Paulina, who was preganant now, disliked the cold winters, and so they set out in the spring of 1850 for California with Samuel leading a wagon train that he helped organize. Their son Emmanuel was born in May in one of the wagons while still in Council Bluffs, and they arrived in California a few months later in August.

Samuel then left the family in Sacramento and continued on to Dogtown, near Placerville, where he sold supplies to the miners out of a store that a Mr. Smith had set up in a tent. Samuel made enough money in just a few months to buy some property in Iowaville, on the outskirts of Dogtown. Here Paulina joined him, and they raised a large family, worked a nearby gold mine, and built a hotel with a store, a bowling alley, and an office in the back for Samuel's medical practice. Samuel and his sons later built a road between Camino and Pleasant Valley that is now known as Snow's Road. Paulina died on Mar. 12, 1882 in Newtown (near Placerville), and Samuel died there on July 9, 1892. Both are buried in the Placerville Jewish Cemetery.

Elisabeth Fink (b. 1829) was christened on March 31, 1829 in Fützen, Germany. As nothing further is known of her, she may have died young or unmarried.

John Betz Fink (1832-1902) was born and christened as Joannes Baptista Fink on July 10, 1832 in Fützen, Germany, according to German records. However, the birth date of July 10, 1833 is inscribed on his tombstone. He evidently americanized his name to John Betz Fink, when he came many years later to the United States. He and his brother Charles came in 1848 by wagon train with their mother and stepfather to Placerville, according to the immigration date the brothers gave in the 1900 U.S. Census. There he and his brother Charles then ran a butcher shop for several years. Several years later, John married an Irish girl named Julia Simson (1844-1913) on Nov. 14, 1863 in El Dorado County. Although both the bride and groom listed the Diamond Springs township as their home, they later lived in nearby Pleasant Valley, where they had at least one son and two daughters. Records of the O'Keefe Mortuary in Placerville confirm that John died on Sept. 16, 1902, some 12 years before Julia, and is buried with her in the Pleasant Valley Cemetery above Placerville. Julia, who is buried in the same cemetery, was born on Oct. 16, 1844 in Ireland, and died on March 10, 1913 in Pleasant Valley. There is an obituary for Julia Fink that confirms her death date, and the year that John died.

Charles Fink (1835-1907) was born and christened as Gallus Fink on June 11, 1835 in Fützen, Germany. He and his brother John came in 1848 by wagon train with their mother and stepfather to Placerville just before the California Gold Rush, and together they ran a butcher shop in Placerville for the next several years. Charles married Sarah Ellen Holmes (1848-1907) of Missouri around 1868 in Sacramento, possibly just after he had made a trip back to his hometown in Baden, Germany. Although the U.S. Census of 1870 shows him and Sarah living next door to Charles' sisters Mary Hassler Fink and Paulina Hassler Snow in Diamond Springs, they soon moved to San Luis Obispo County where all of their children are believed to have been born. They ran a hotel and restaurant in San Luis Obisbo until about 1876 when they bought land in Arroyo Grande and moved there. Sarah either died or was buried on March 2, 1907 in Arroyo Grande. Charles died just two months later at the age of 71 on May 2, 1907 in Arroyo Grande, and he was buried on May 5, 1907 with Sarah in the Arroyo Grande Cemetery. A biography of Charles Fink that was published in 1917 contains much information on him and his family.
---
REFERENCES:
Donaueschingen and Fützen Catholic Church Records - Kirchenbuch, 1594-1893, Katholische Kirche Donaueschingen (A. Donaueschingen), Film Number 0890574 - LDS Church Genealogy Resources located online at Familysearch.org

Birth, Death and Marriage Indexes for California (available online at Ancestry.com, and Familysearch.org).

Carty, Robert James, Family Memories from many interviews and remembrances over the years.

El Dorado County Museum Archives

Grave and burial locations where known are listed with tombstone photos (when available) on

Newspaper Articles for the Toombs & Hassler Families from Placerville, California

Röthenbacher Familienstammbaum (2014), Family Group Sheet for Gallus Fink at Ancestry.com. Maintained under screen name "ulligalli". Retrieved Feb. 21, 2014.

Tombstone Transcriptions for the Toombs & Hassler Families from Placerville, California. Also, many tombstone photos are availble at

U.S. Census Records, 1860-1930 (available online at Ancestry.com).

U.S. Social Security Records (available online at Ancestry.com).