Solano resident finds surprising history in past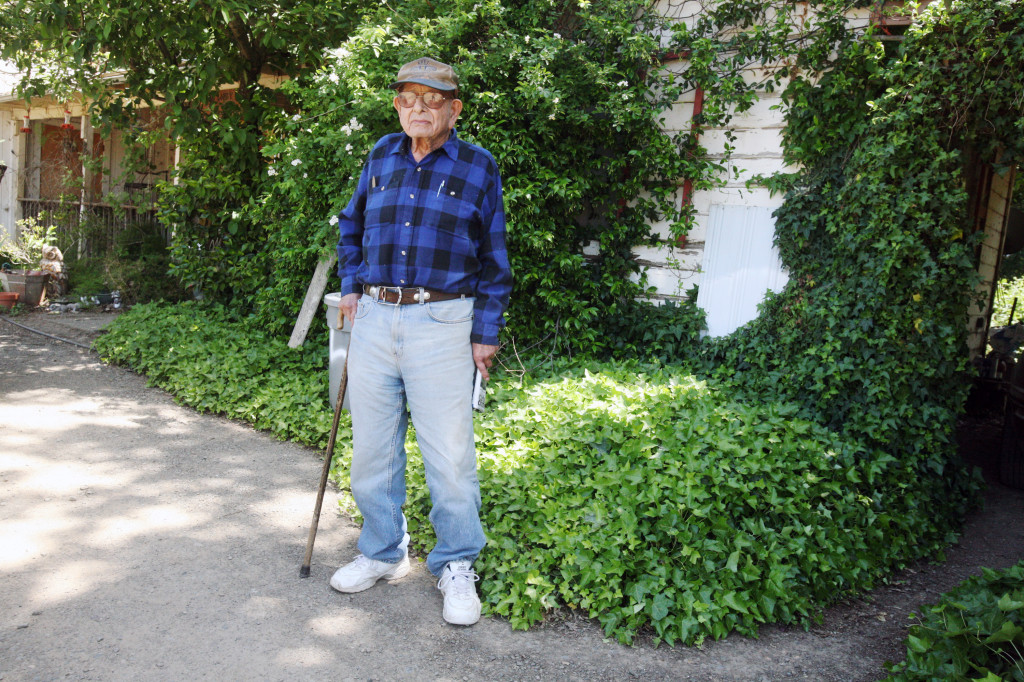 John Lopez stands in front of his house on Thursday in Napa County. Lopez recently discovered that he is related to a person who travelled with Junipero Serra. Mike Clark used genealogy to trace Lopez' roots.
(Aaron Rosenblatt/Daily Republic) By Susan Winlow
From page A1 | May 06, 2013

FAIRFIELD — So what's in your historical closet?

John Lopez's friends and family knew he led a colorful life. What no one knew, until a family friend did some digging, was that his ancestry was equally colorful.

"John used to joke that he had no ancestry, which is far from the truth," said Mike Clark, a family friend whose wife's family lives nearby in the Gordon Valley area.

Clark, who enjoys doing research, embarked on several genealogy projects, including that of the 94-year-old Lopez and Lopez's wife, Betty. Clark discovered that Lopez, through his maternal grandfather's side of the family, is directly associated with Spanish settlers instrumental in settling California.

Chief among these settlers is Junipero Serra, the Franciscan friar who founded the California mission chain. He also is connected to Juan Batista de Anza and Gen. Mariano Vallejo.

"It fascinates me," John Lopez said. "A lot of people don't know their history."

Clark combed through records upon records, read books upon books. He interviewed both Lopezes, looking for names and incidences he could connect to historical information. He looked through census records, California mission records, church archives and the Early California Population Project sponsored by the Huntington Library. And, of course, Ancestry.com.

What he found delighted him and astounded John Lopez, who is a military veteran and former ranch hand in Rio Vista.

"It's amazing what you can find out with a few names," Betty Lopez said.
Traveling with Serra
Lopez's great-great-great-great grandfather – Manuel Rodriguez – was tapped by Serra to come with him from Guadalajara, Mexico, in March 1774 as a carpenter. He, along with Serra, two other carpenters, two blacksmiths and their families, arrived in San Diego on the ship the Santiago.
According to Clark's documents, the 1775 census showed Rodriguez still in San Diego, but mission records at San Carlos Borromeo de Carmelo Mission – also known as the Carmel Mission – show that by 1781 he had moved to Monterey and was listed as the carpenter for the Monterey Presidio. He was still listed as the carpenter at that location in 1788, as well.
Serra also was in Monterey at this time.
This is enlightening information for the Lopez family because that indicates that Rodriguez, the only carpenter listed at the time, was there at the time of Serra's 1784 death at the Carmel Mission. Based on the dates Clark identified, and on historical information about the carpenter, it's likely that Rodriguez was the carpenter who built the "simple, redwood" coffin in which Serra was laid to rest.
"He was the only carpenter mentioned in the (Huntington) records as being at Monterey in 178(1) and 1788," Clark said. "That's our confirmation."
Clark added, laughing, "When I told John, he told me that was a little bit morbid."
Other records indicate that Rodriguez married at the Carmel Mission on Nov. 11, 1781, and that Serra baptized their first-born, Damaso Antonio Rodriguez, on Dec. 15, 1782.
Working with General Vallejo
Damaso Rodriguez became a soldier at the Monterey Presidio, eventually reaching the rank of corporal. He was stationed at several locations but in 1837 wound up at Mission San Francisco de Solano, or Mission Sonoma, located in Sonoma, serving on Gen. Mariano Vallejo's staff.
"For 17 years he was the supreme power in northern California around the bay, including the great counties of Alameda, Contra Costa, San Joaquin, Sacramento, Yolo, Solano, Napa, Sonoma, Mendocino and Marin. Land grants, followed by settlements, were made on his recommendations alone," said Platon Mariano Guadalupe Vallejo, the son of the general, in the book "Memoirs of the Vallejos."
A land grant is exactly what the general helped Damaso Rodriguez receive from then-Gov. Juan Alvarado in 1841, Clark said he discovered. The grant was 6,654 acres and known as Yajome Rancho. It was east of the Napa River and north of the present town of Napa.
But the historic Bear Flag Revolt occurred before Damaso Rodriguez had a chance to occupy the land, which is necessary to claim the property. Clark discovered, in his record combing, that Damaso Rodriguez was beaten by the Americans during the revolt and died shortly after. His heirs did not pursue the land grant and it eventually ended up going to the general's brother, Salvador Vallejo. (The Silverado Resort and Spa claims on its website that it was once a part of the Yajome Rancho.)
"If things turned out differently, John could've died owning Napa," Clark said, chuckling.
Laughing with Clark, John Lopez said, "It's nice to die wealthy."
Finding a local connection completed a circle for John Lopez, who was born in San Luis Obispo but wound up living, unbeknownst to him at the time, not far from where his ancestors lived, worked and died.
"That's why I admire this man, he has all this history," John Lopez said of Clark. "I know more about my ancestors from him than I do from my own family."
Lopez's fun facts
What's in your historical closet? These are in John Lopez's:
Manuel Rodriguez sailed with Junipero Serra from Guadalajara, Mexico, to San Diego on the ship Santiago. It took 49 days, making landfall on March 14, 1774.
The 1790 census lists both Manual and Maria Rodriguez as mestizo, which means mixed Spanish and Indian ancestry.
Junipero Serra baptized Manuel and Maria Rodriguez's first-born son, Damaso Antonio Rodriguez, four days after his birth, Dec. 15, 1782.
Based on various records, Mike Clark has identified Manuel Rodriguez as the carpenter who built the "simple, redwood" coffin in which Junipero Serra was buried in 1784.
Damaso Rodriguez received a land grant of 6,654 acres from Gov. Juan Alvarado in 1841, near present-day Napa. It was not occupied before Damaso Rodriguez died during the Bear Flag Revolt.
References used by Mike Clark
"History of California Volume 5," by Hubert Howe Bancroft
"Junipero Serra: The Man and his Work," by A.H. Fitch
"Spain's California Patriots in its 1779-1783 War with England During the American Revolution, Part 2," by Granville and N.C. Hough
"Spanish-Mexican Families of Early California: 1769-1850," by Marie Northrup
"The Life and Apostolic Labors of the Venerable Fray Junipero Serra," by Francisco Palou (Translated by C. Scott Williams)
California mission records from the Early California Project, sponsored by the Huntington Library, San Marino
Catholic Church archives, Guadalajara, Mexico
Early California census records, can be found on SFGenealogy.com
Tombstone photos and transcriptions on findagrave.com
Ancestry.com