Land Grants Awarded to William Toombs
El Dorado County, California
William Toombs in 1866 bought from Alfred Briggs the old Wooster Ranch (W/2 of Sec 34-T11N-R11E), a 320-acre homestead in White Rock Canyon on the northeast side of Placerville. He was subsequently awarded a Federal patent (full ownership) to part of this homestead on Sept. 13, 1876 (Land Office Doc ID #1127), with Peter Nimon as co-owner. Then he received patent on Feb. 10, 1881 (Doc ID #97076) to the rest of the land with himself as sole owner. This property is where William and Frances Toombs lived and raised their children, and it became known as the "Toombs Ranch" or "Toombs Homestead".
When William Toombs died, his was divided into equal shares and left to his sons. The younger son Charles Gilbert Toombs inherited the ____ half of the ranch, which contained the family house, and it in time passed to his son Albert William Toombs, who is said to have lost it in a poker game in a Placerville bar. The older son William Louis Toombs inherited the other half of the ranch, and he eventually sold it to his oldest son Frank Toombs, who planted it in apple trees. Frank had no children, and he offered his apple orchard to his nephew Bob Carty when Bob was looking for a farming venture so that he could move his family out of Hollywood. However, Bob declined the offer, and started a vineyard in Solano County instead. Frank's property was subsequently sold.
William Toombs, Sr. was also a co-owner of the Thistle Placer Mine, in the SE/4 of Sec 33-T11N-R11E, which was located just to the west of his White Rock Canyon home. He and four partners, one of whom was his son-in-law Michael Sexton, were awarded a patent (full ownership) on Sept. 23, 1876 to the 110-acre claim (Land Office Doc ID #1960). The Toombs family in 1905 still owned the mine when we read that "the Toombs boys property at White Rock has been bonded for $15,000 to C.E. Seymour." Presumably the "Toombs boys refers to William's sonsW illiam Louis Toombs and Charles Gilbert Toombs. Shown below are tables from the Federal Bureau of Land Management website show the Toombs family land grants, with neighboring Federal land grants.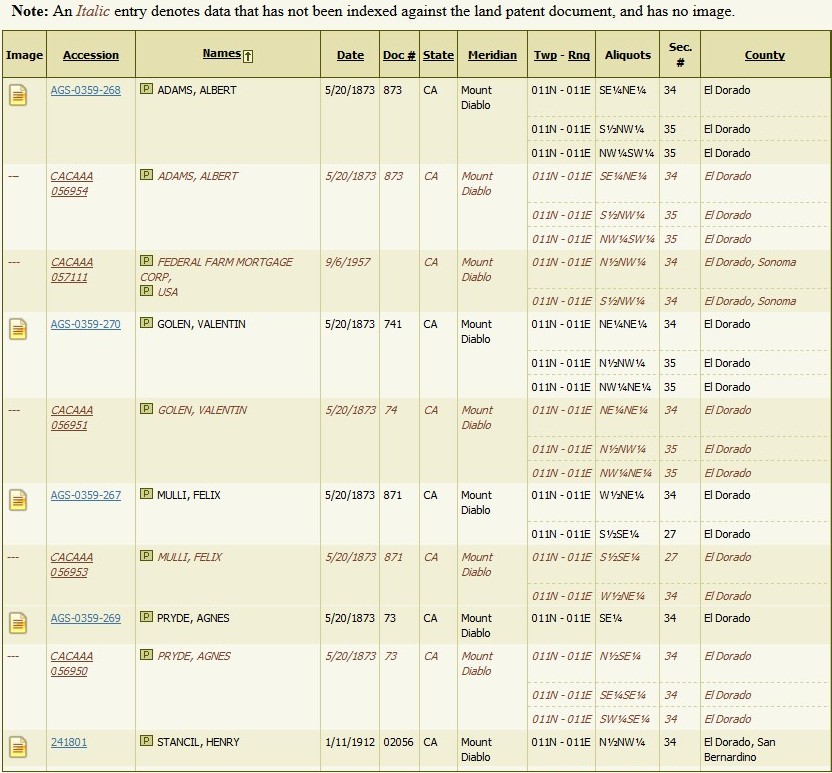 ---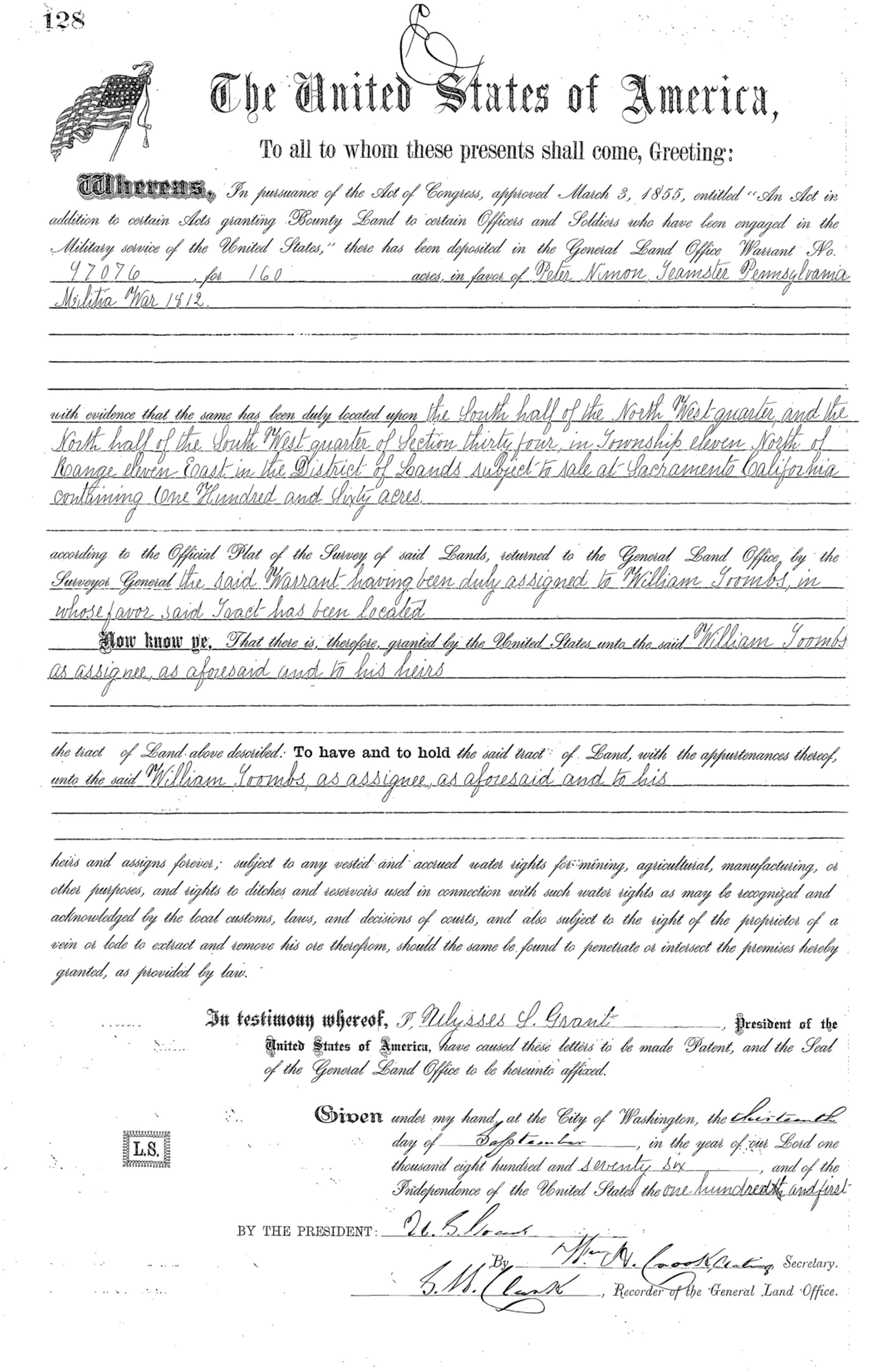 The United States of America
To all to whom these presents shall come, Greetings:
Whereas, In pursuance to the Act of Congress, approved March 3, 1855, entitled, "An Act in addition to certain acts granting Bounty Land to certain Officers and Soldiers who have been engaged in the Military service of the United States," there has been deposited in the General Land Office Warrant No. 97076, for 160 acres, in favor of Peter Simon, Teamster, Pennsylvania Militia, War of 1812,
with evidence that the above has been duly located upon the South half of the North West quarter, and the North half of the Southwest quarter of Section Thirty four in Township Eleven North of Range Eleven East in the District of lands subject to sale of Sacramento California containing One Hundred and Sixty Acres
according to the Official Plat of the Survey of the said Land, returned to the General Land Office by the Surveyor General the said Warrent having been duly assigned to William Toombs in whose favor said Tract has been located.
Now know ye, That there is, therefore, granted by the United States unto the said William Toombs as assigned as aforesaid and to his heirs and assigns forever; subject to any vested and accrued water rights for mining, agricultural, manufacturing, or other purposes, and rights to ditches and reservoirs used in conneciton with such water rights, as may be recognized and acknowledged by the local customs, laws, and decisions of courts, and also subject to the right of the proprietor of a vein or lode to extract and remove his ore therefrom, should the same be found to penetrate or intersect the premises hereby granted, as provided by law.
In testimony whereof, Ulysses Grant, President of the United States of America, have caused these letters to be made Patent, and the Seal of the General Land Office to be hereunto affixed.
Given under my hand, at the City of Washington, the Thirteenth day of September, in the year of our Lord one thousand eight hundred and Seventy six, and of the Independance of the United States the one hundred and first
BY THE PRESIDENT: U.S. Grant

By ____________________ acting Secretary, _______________________, Recorder of the General Land Office.

Recorded, Vol. 679, Page 126
---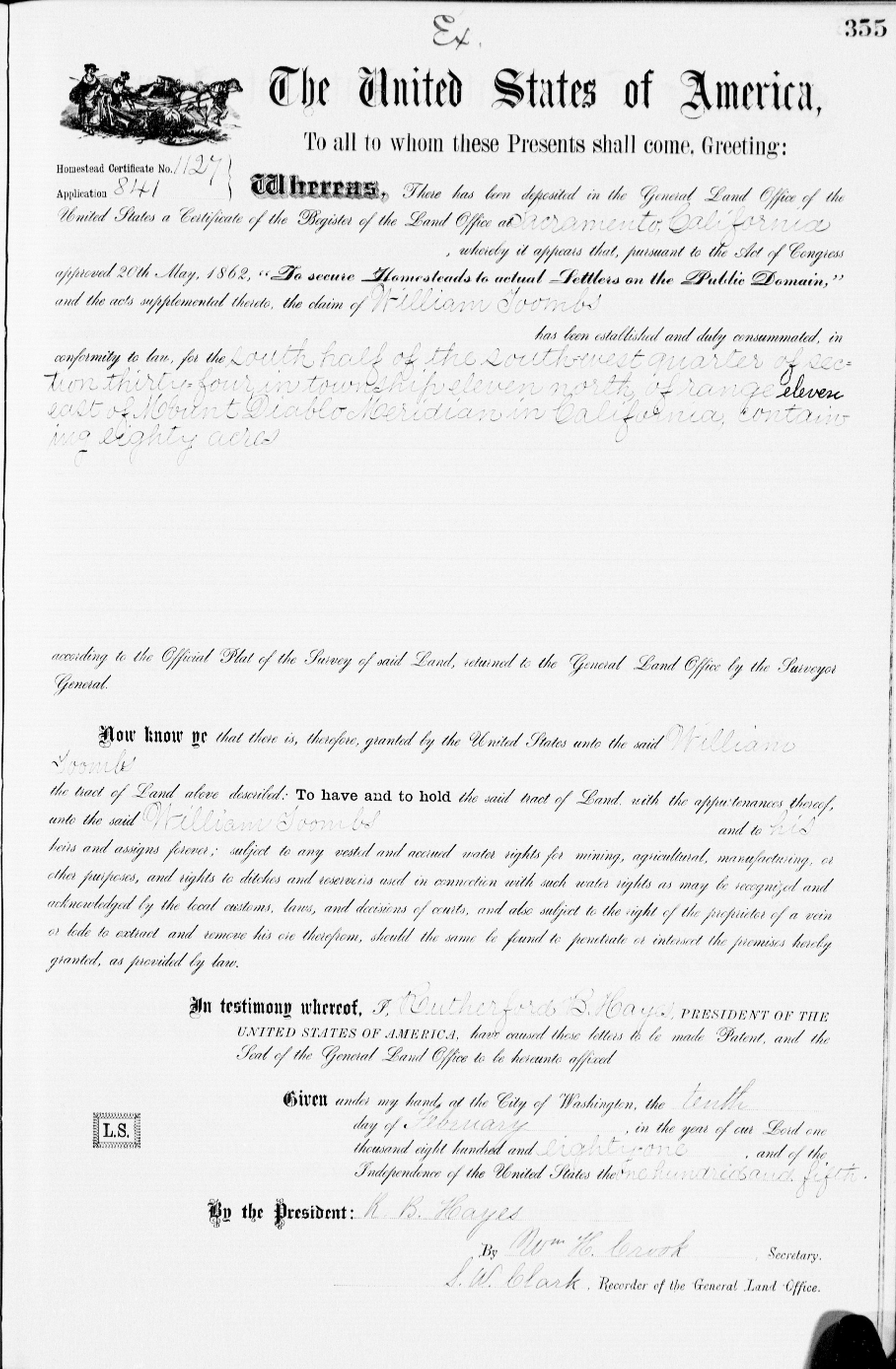 PUT TEXT HERE