Bedrock Mortar Sites in California
Located in various California Parks outside of Solano County
(click the images below for more detail)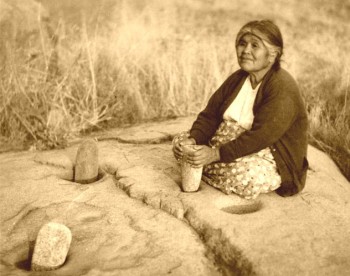 Bedrock mortar sites are also called "milling stations", and they are where long ago the Indians of California ground up acorns, which were one of the main items of their diet. The mortars they left behind are actually man-made holes, which were ground and pounded into rock slabs and boulders using stone tools called pestles. These are much like the stone mortar bowls and pestles of well-stocked kitchens. Acorns surprizingly are quite nutritious, but also horribly bitter, so much so that they must be first processed to eat. This is done by grinding the acorn meat into a mash, then pouring water through it many times to leach out the tannins that make it bitter.
They say that acorns from black oaks, once processed, taste the best. This is the reason that most bedrock mortars are found where once there was a pond or stream next to a grove of black oak trees. But no one eats acorns anymore, and those who once did died off long ago, with their few survivng descendants scattered to the four corners of the compass. Yet here and there we can still find those rock slabs and boulders where they once worked, decorated with ancient mortar holes that remind us of a stone-age way of life that is no more. Below are some major bedrock mortar sites in central California that are located within a few hours drive of Solano County.
| Patwin Bedrock Mortars | How Mortars were Made | Glossary | Southern Sierra Pictographs & Petrolglyphs | Chumash Pictographs |
| | |
| --- | --- |
| | California State & National Parks have several museums that exhibit California Indian artifacts. A few also have outdoor displays with bedrock mortars. But the best display by far of bedrock mortars is at Indian Grinding Rock State Park, which is listed below under its own heading. The button link immediately below leads to information on a few of the others. |
| | The City of Bakersfield (Kern County) has several large granite boulders containing mortar holes that Kern County some years ago removed from the Kern River, and relocated to places around town. Today this wanton desecration of archaelogical sites is illegal, and the county no doubt would vilify and fine anyone caught doing this. The one redeeming aspect of this government vandalism is that the boulders are now located in places where the public can easily view and enjoy them. |
| | Indian Grinding Rock State Park (Amador County) sits on an ancient village site of the Sierra Miwok. A museum here has interpretive displays, Nearby is a limestone outcrop with some 1,185 bedrock mortars—the largest group in North America. Petroglyphs are associated with some of the mortars. |
| | Maidu Museum and Historic Site (Placer County) in the city of Roseville sits on an ancient village site of the Nisenan Maidu. There ia a museum here with interpretive displays, and behind the museum are over 100 bedrock mortars in several outcrops, and a few outcrops with petroglyphs. |
| | Morgan Territory Regional Park (Contra Costa County) contains the site of the main village of the Volvon Bay Miwok, who controlled the summit and east side ot Mt. Diablo. There are also sites of several smaller satellite villages, including hundreds of scattered bedrock mortars, together with house pits, rock walls, and other evidence of occupation. |
| | Wind Wolves Open Space (Kern County) contains the village site of Tashlipun, where an Emigdiano Chumash tribelet once lived. Nearby at Reflection Pond there are more than 80 bedrock mortars, a grooved stone and a rock wall at a food-gathering camp, and some pictograph caves hidden in the surrounding hills. |
| More Bedrock Mortars | How Mortars were Made | Glossary | Southern Sierra Pictographs & Petrolglyphs | Chumash Pictographs |