Back to Suisun Valley History Archives
Pages from the Past - Mankas's Corner
by Ernest D. Wichels
Vallejo Times Herald (newspaper) - Feb 3, 1974, 3rd Section, p. 25.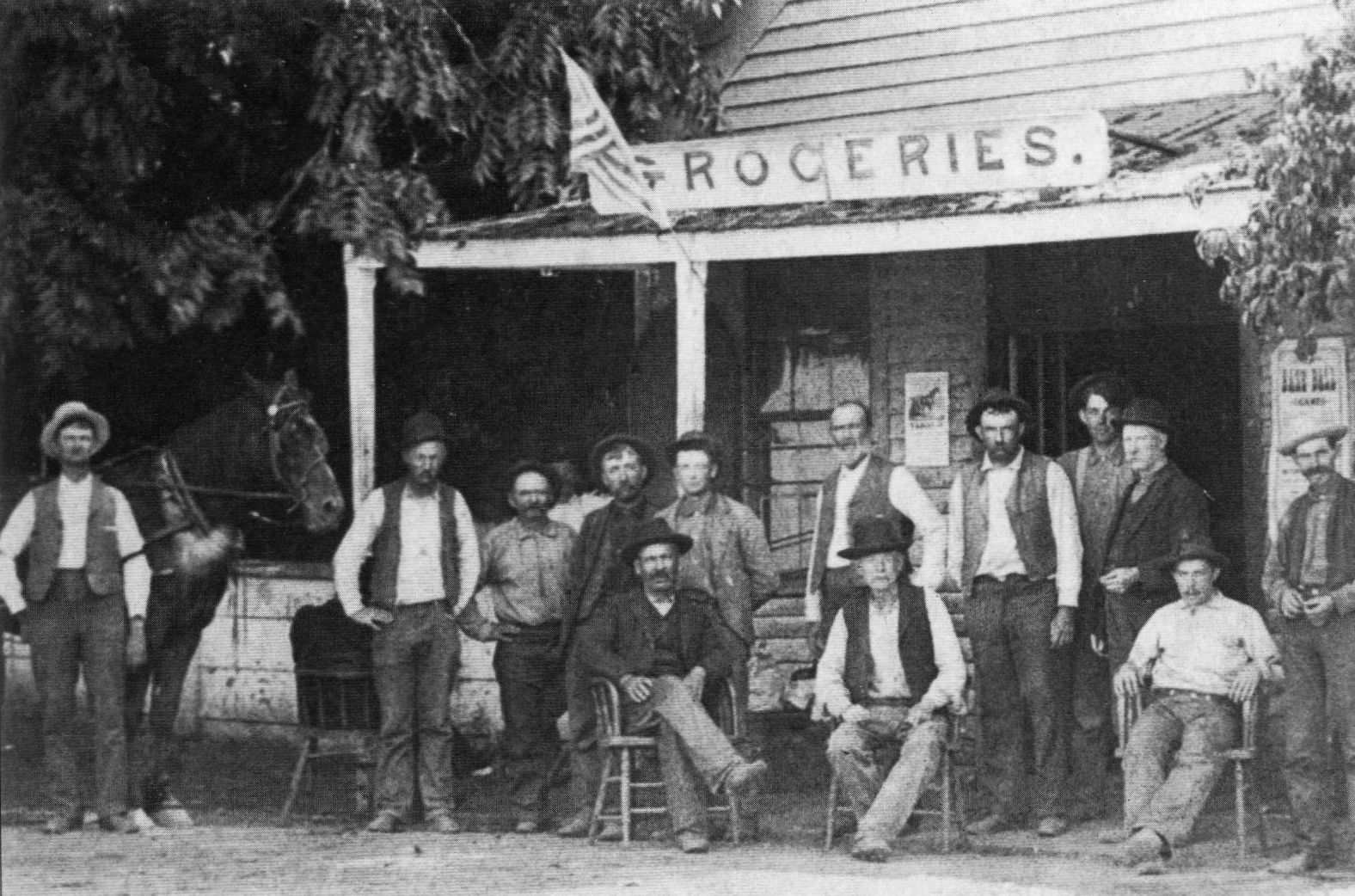 Christley Manka was born on April 23, 1814 in Virginia; he moved to Missouri and in 1849 followed the rainbow of the Gold Rush to California, reaching Sutter's Fort in September. He engaged in mining and ran a store in the Yuba River area with some success.
Christley Manka was born in Bautorte county, Va., April 23, 1814, and resided there till 1836, when he went to Montgomery county, Indiana; thence to Peoria, Ills., where he stayed for a short time, and then proceeded to Lewis county, Mo., where he remained till 1849, when he made the trip across the Plains to California, arriving at sacramento, (Sutter's Fort) on September 17th of that year. Went to the mines on Yuba creek shortly after, where he stayed for a few months, and then went to the Upper Yuba, and there Principally engaged in storekeepking and mining till June, 1852, when he came to this district, and has been a continuous resident in the township ever since, except during the years 1864-5, when he was a resident of Bridgeport, after which he came to his present abode and farm of one hundred acres. (from Munro-Fraser, J.P., 1879, The History of Solano County, p 416).
About 1854 he came to Solano and lived in Bridgeport (now Cordelia) for a year of so. He then moved to what has become known for about 120 years as Manka's Corner.
Manka's Corner was originally Barton's store. Manka became Barton's partner and the place was known as Barton and Manka. John W. Barton went to Fairfield and Manka stayed at the corner. He had a farm near Maupin's . . . Sydney Maupin had a farm north of Barton's Store - also known at the time as Ledgerwood's. (from Warren C. Sheldon (ed.), 2004, A History of Suisun Lodge No. 55, F&AM, 1854-2004, Fairfield, CA on Fairfield-Suisun Lodge 55 website).
Barton's Store was, in the early 1850's, the center of activity in Upper Suisun Valley. The first school in SUisun was started here when Barton's daughter began to teach students in the store room behind the store. In the 1860's the school near Manka's became known as Suisun Dist. #1. Justice of the Peace, Benjamin Brown, held cout at Barton's store as early as 1854. The Suisun Masonic Lodge held its first meetings at Armijo's Adobe and then constructed, in 1855, a two-story building next to Barton's Store. The meeting hall for the lodge was on the upper floor and the lower floor was used as a school room. By 1855 Barton had sold an interest in the store to Christley Manka. Manka took over the business in 1859 when Barton moved to Fairfield. Milton Cutler's Stage stopped at Barton's Store twice a day on its run from Benecia to Suisun and return. [need to add REFERENCE - from building book]
There he conducted a wayside bar, store and other accommodations for travelers and teamsters coming from the wheat and barley empire of Beryessa Valley, via Wragg Canyon.
Manka's Corner was the last [stage] stop en route to the Suisun Embarcadero, where much of the wheat from Napa was waterbourne. Also, Suisun City in those days boasted a steam flour mill (Marston and Stockman), with a "four-run milling stone," which fact increased travel through Manka's Corner as the flour made its way back into the hinterland.
The old Spanish trail from Benica and Napa joined at Cordelia, crossed at Berry's [near Suisun Elementary School] went by Barton's store [Mankas Corner] through by the Armijo adobe and Sidney Clark's to Vacaville. Later on a road was operned by Alford's, coming through the valley and going over the low hills in from of the Waterman ranch and coming into the Spanish tail at Clark's place. The trail crossed Ulatis creek and then one route led up the base of the hills to Wolfskill's, while the other went by E.E. Bennett's to Silvey's [Dixon], and then to the Baca settlement on Putah creek [Vacaville]; and from there to Sutter's Fort, or Sacramento. (from the Winters Express, Yolo County, California, Saturday, January 24, 1891, front page).
[In 1857,] the Suisun and Vallejo Stage Co. operated by Mr. A. Williamson began service. It left Suisun City for Vallejo every Monday, Wednesday, and Friday at 7 a.m. by way of Barton's Store [Mankas Corner], Rockville, and Cordelia arriving in Vallejo in time to connect with the steamer Guadalupe headed for San Francisco. The return stage left Vallejo Tuesdays, Thursdays and Saturdays at 1 p.m., arriving at Suisun City at 5 p.m. (from the Suisun Waterfront District website).
A thrifty man, Manka accumulated some savings, as history tells us that he formed a life-time habit of lendng money no notes - indirectly this resulted in some of Manka's land holdings.
POPULARITY GROWS
As Suisun Valley settled, the hitching racks at the Corner were crowded with horses of the neighbors who enjoyed playing cards at the tavern and store, where a "dram" was always available.
Manka nerver married - his first love apparently being his business and his "banking" operations. He died October 20, 1888 in Fairfield. The estate was administered by his friend J.C.Wolfskill.
One of the pioneer Wolfskill family ("Judge" Clarence Wolfskill) still resides in the center of this Manka's "community."
After Manka's death the store and tavern were purchased by John Wagner.
Manka's Corner was a regular post office from 1895 to 1902.
Over the years there have been many owners and operators, among them Ed Wilson of Vallejo, Charles Campbell and, in 1905, Luke Milligan.
In 1905 Luke Milligan added a second floor for a dance hall and boxing room.[need to add REFERENCE - from building book]
The latter replaced the original primitive structure with a two-story frame building; the upper floor was a dance hall, where boxing matches were sometimes held, and old -timers recall the "standing room" only bout between Ralph Figari and Jack Mullanax. The winner is not recalled, but Jack became a Vallejo policeman.
In 1915 the ownership was taken over by Peter Hoegar and Henry Christman, but Prohibition in 1915, only the grocery store survived as a rural convenience and a neighborly meeting place.
Following Prohibition the Jones brothers bought the store, and a barber shop was added. Many years ago the second story was removed, and an annex added where a Mr. Ferrari (now at Fisherman's Wharf, S.F.) made a vain effort to establish a Sea Food Grotto in the annex.
In 1963 Peter Gilligan bought the famous corner which has now progressed from a country store to a rewarding delicatessen with fine wines and foods, including home-baked bread; and rare sandwiches made by June Gilligan herself.
Manka's Corner was and is a vital part of our county; it flourished during the days when Solano had such communities as Maine Prairie, Denverton, Batavia, Collinsville, Binghampton, Tremont and Silveyville or even the one-time Post Office of Solano, with its "Solano House.
The others are gone (Solano Post Office moved into Daviesville, and Solano House had its "roadside days", too, until it disappeared).
But Manka's Corner, like the pioneers who first farmed it, and the successful orchardists who now live there, remains a proud segment of our County.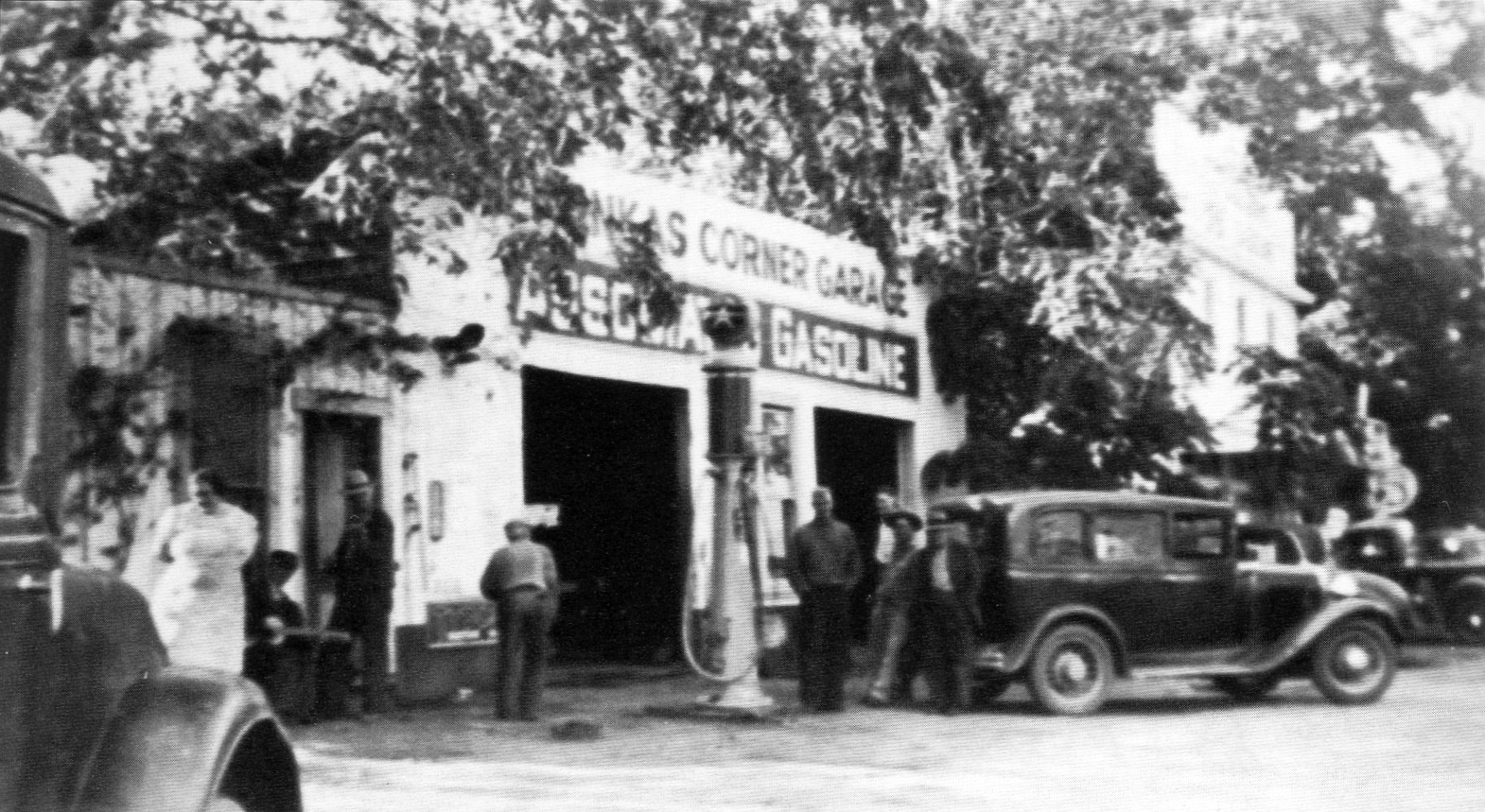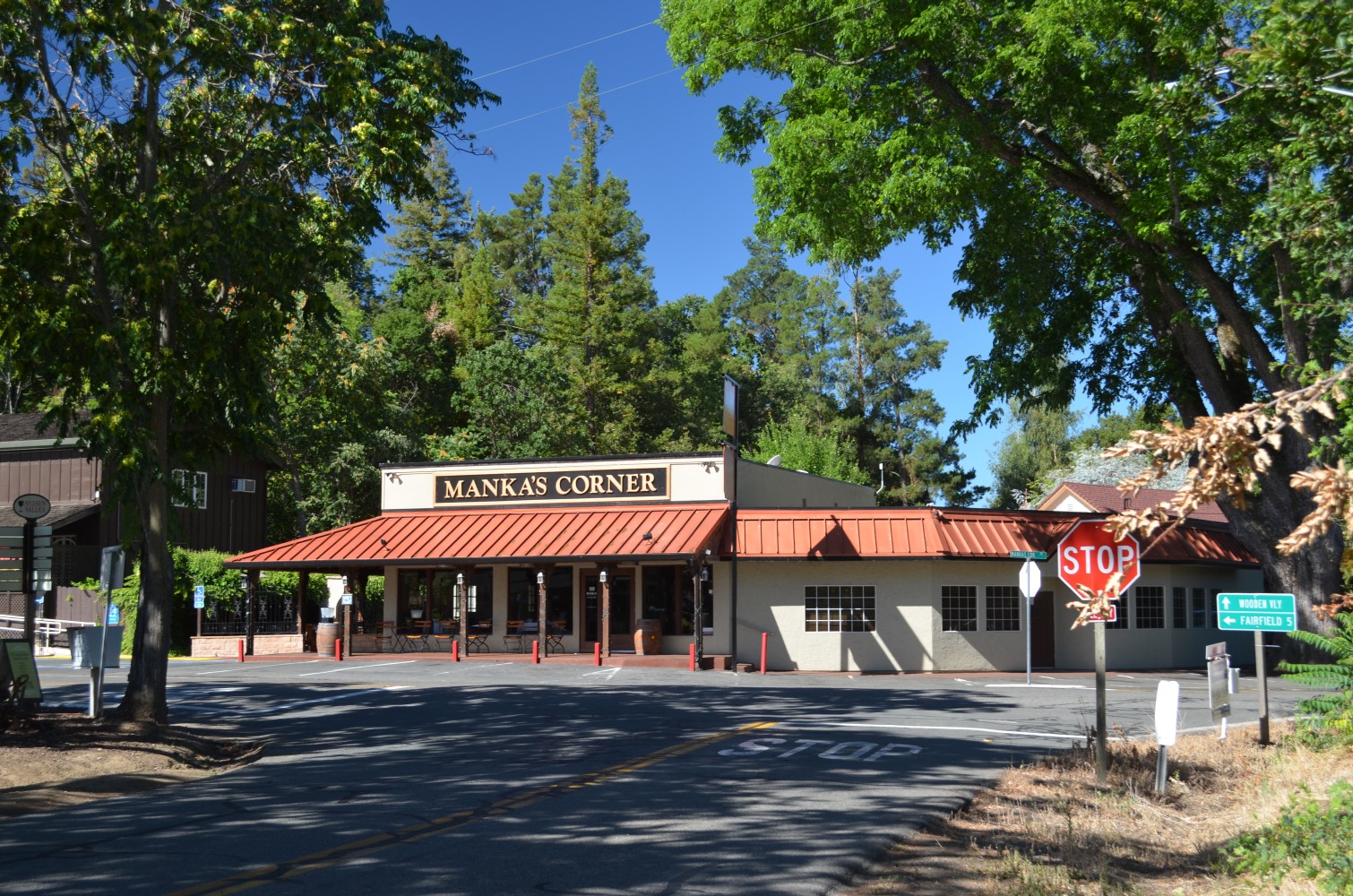 ---
Excerpts from "Echos of Solanos Past" by Kris Delaplane Konti

Vacaville Reporter - July 23, 1995

Christley Manka, was born in Virginia, and came out west to the gold fields where he prospered as a miner and storekeeper. In 1852, he came to the Suisun Valley and settled at a point that was an overland stage stop. His farm of 100 acres became known as "Manka's Corner.'" In time, accommodations were provided and a feather bed was comfort for the weary stage traveler headed for destinations such as Santa Rosa.

Vacaville Reporter - February 18, 1996

In 1852, Christley Manka settled in the Suisun Valley at the point where the overland stage stopped. In time he fitted out a building on his ranch with sleeping accommodations featuring a featherbed.

Vacaville Reporter - February 8, 1998

Christley Manka crossed the plains in 1849 and went to the mines at the Upper Yuba where he also worked in the general merchandising business. When he moved to the Suisun Valley, he established Manka's Corner, a stage stop.