Back to Suisun Valley History Archives
Notes on the Wolfskill Family of Suisun Valley
Part 1: Newspaper & Book Articles
Index of Individuals by surname
---
---
Wolfskill Ancestry
from Wilson, Iris Higbie (1965), William Wolfskill, 1798-1866 : Frontier Trapper to California Ranchero, published by Arthur H. Clarke Co., Glendale, Calif. p. 22.
"[Joseph Wolfskill was a] German farmer from the Pennsylvania country.3 ... As the youngest of seven brothers who, because of their height and physical fitness, had been impressed into the service of Frederick the Great as members of his famous Potsdam regiment, Joseph Wolfskill to America in 1742 to escape similar duty in the King's guard. This story, which had been passed down through the Wolfskill family, was substantiated when a Doctor William Wolfskehl* of Germany arrived in San Francisco via Australia, on this return home to Germany in 1870, and later when his son came from Berlin to inspect the Northen Pacific Railroad. Dr. Wolfskehl stated that his grandfather was one of the seven brothers of whom Frederick the Great had impressed six into his Potsdam regiment of tall men and that his grandfather was the only one of the six that escaped from the wars, leaving the Wolfskehls of Germany as his descendants. Dr. Wolfskehl said further the seventh and youngest brother had come to America, and both the doctor and his son believed that the Wolfskills of Kentucky and later California were descendants of this youngest brother.4"
3 U.S. Census 179 of Franklin County, Pennsylvania, in Pennsylvania Archives, 5th Series, VI, p. 119.
4 James M. Guinn, A History of California and an Extended History of Los Angeles and Environs (Los Angeles, 1915), II, p. 24.
* William Ernest "Doctor" Wolfskehl (1838-1937) was born on June 8, 1838 in Darmstadt, Hesse, Germany to parents Seligmann Wolfskehl (1806-1862) and Elizabeth "Betty" Baum (1810-1890). He came from a long line of German-Jewish ancestors in Darmstadt who descend from a Jewish cattle dealer named Jehuda Löb Wolfskehl, whose forebearers came from the village of Wolfskehlen (today a suburb of Riedstadt) and resettled in Darmstadt in the aftermath of the Thirty Years War (1618-1648). William "Doctor" Wolfskehl left Germany in 1865 and emigrated to Australia, where he became an Australian citizen on July 8, 1865 in New South Wales. His naturalization papers give his occupation as a Doctor of Medicine, though their seems to be no independant verification that he actually held a medical degree. He married Margaret Emma Bird (1840-1911) on Oct. 26, 1865 in Australia, probably in Kew, New South Wales, where he and Margaret generally resided over the years. William and Margaret later appear in the 1881 U.K. Census with their family at an address in Lambeth, London. They had four children, two born in Australia and two in London - Augustus Siegfried (1868-1949), Theodore (1869-1944), Trophina (1874-1945) and Harold (1871-1971). The oldest son Siegfried is known to have made a trip in 1934 on the ocean liner Aquitania to the United States. Although William generally referred to himself as "Dr. Wolfskehl", he gave his occupation when in London as a Foreign Merchants Agent. However, he had a less than stellar reputation back in Australia, where he was involved in the late 1860s in a celebrated court case that resulted in his being considered there something of a con artist. He died on February 9, 1907 when 68 years old during a visit back to his birth place in Darmstadt. He is a distant cousin of the German-Jewish poet Karl Wolfskehl (1869-1948), mathematician Paul Wolfskehl (1856-1906), and civil engineer Edouard Wolfskehl (1874-1943) all of whom were also born in Darmstadt. The ancestry of this family is summarized by Klause Barner (1997), "Paul Wolfskehl and the Wolfskehl Prize", Notices of the AMS, American Mathematical Society, v. 44, n. 10 (November), p. 1294-1303. It may in fact be Edouard Wolfskehl, and not one of William Wolskehl's sons who is mentioned in the preceding story by Wilson (1965) as coming to California to inspect the Northern Pacific Railroad, as Edouard's carrer was focused on the railroads in Germany.

A more complete ancestry of the Wolfskehl family of Darmstadt is by Eckhart G. Franz (1984), Juden als Darmstädter Bürger (Jews as Darmstadt Citizens), Published in German by Eduard Roether, Darmstadt, 444 p. A family tree in English is available on the Wolskel/Haeberlin Web Site on MyHeritage. Last accessed on 13 Aug 2018.
---
---
William Wolfskill Kentucky Trapper
William Wolfskill was born in Boonesborough 20 March 1798. His parents were Joseph Wolfskill, Jr. and Sarah Reid, who were married in Madison County 20 July 1796. Sarah was the daughter of John Reid, and Joseph, Jr. was the son of German immigrant Joseph Wolfskill and his wife Margaret Smith. Joseph and Margaret's other children were Margaret, George, Peter, and William.
According to family tradition, Joseph, Sr. came to America in 1742 to escape impression into the service of Frederick the Great. After spending about 25 years in Pennsylvania, the Wolfskill family moved to Rowan County, North Carolina. They remained there until about 1788 when they moved to Madison County, Kentucky. Joseph and his family settled near the mouth of Silver Creek. In 1805 Joseph posted a notice in the "Kentucky Gazette" (a Lexington paper, as there were no papers published in Richmond) that his wife Margaret had left him and he was not responsible for her debts.
Joseph, Sr.'s son, William, died in Madison County in 1796. His widow Jane married John Heard 20 June 1797. Joseph (the records do not specify a Jr. or Sr.) was guardian for the children of william and Jane, but these children were never named. Joseph, Sr. died in Madison County about 1819.
From Couture, Jackie (1998), "William Wolfskill Kentucky Trapper" in Madison County Connections, published by the Madison County (Kentucky) Historical Society, v. 2, n. 2, p. 2-3.
---
From Marquis (1963), Who Was Who in America: Historical Volume 1607-1896, A.N. Marquis Company, Chicago, Illinois, p. 593
WOLFSKILL, William, trapper, pioneer; b. Richmond, Ky., Mar. 20, 1798; m. Magdalena Lugo, Jan. 1841, 4 children. Mem. 1st expdn. of Americans known to have entered So. Utah, 1824; became Mexican citizen, 1830; leader expdn. which pioneered new route to Western portion of Spanish Trail to Cal., 1830; built schooner Refugia (one of 1st ships built on Pacific coast), 1831; settled in Los Angeles as carpenter, 1832; planted vineyard near settlement, 1836; planted one of 1st orange groves in territory, 1841; chosen councilman of a village in Sacramento Valley, 1844. Died at his ranch, Oct. 3, 1866.
---
---
University of California Biographies
from the University of Califonia Online Digital Collections (Calisphere)
Finding aid for Wolfskill Family Collection 1820-1975
University of California, Davis. General Library, Dept. of Special Collections.
John R. Wolfskill and Family
In 1842, John Reid Wolfskill (1804-1897), who was also known as John Reed, John R. or J.R., became the first American pioneer settler in the Solano County and Yolo County region of California. Before his journey to California, John Reid worked as a teamster in Santa Fe and in Mexico, where he lived for ten years, and later worked for a French merchant as the manager of a pack train of forty mules packing silver bullion and supplies.
In 1838, John Reid traveled to California via the Santa Fe Trail and arrived at his brother William's house in Los Angeles. After working for William for a few years, John R. wanted to have his own property. He surveyed Northern California and ultimately liked the present-day Winters area the best. William, a naturalized Mexican citizen through his marriage to Magdalena Lugo, petitioned the Mexican government for the land that John R. desired. Governor Juan B. Alvarado granted William his request by giving him the Rancho Rio de los Putos Grant, also known as the Wolfskill Grant, which encompassed 17,754 acres of land on both sides of Putah Creek in Solano and Yolo Counties.
By agreement between the two brothers, John R. settled on the Rancho Rio de los Putos Grant while William remained in Los Angles. John R. brought to the rancho a herd of about ninety cattle and some fruit cuttings from William's farm. John R.'s farm became well-known for growing a variety of fruits, including oranges, olives, figs, peaches, pears, and grapes. In 1849, William deeded half of the Rancho Rio de los Putos to John R., who then sold off lots at a low price to bring more settlers to the area.
John R. Wolfskill married Carmelita (Carmel) Arcia Tapia Knight, the widow of William Knight. Their son, Edward, often referred to as "Ned" or "Ed," was born on the Wolfskill Ranch in 1850. In 1851, Carmel Knight Wolfskill died. In 1860, John R. Wolfskill married Susan Cooper, daughter of Major Stephen Cooper. Susan Cooper Wolfskill, herself a child of pioneers, made the first Fourth of July flag for California. The flag was raised in 1847 at the celebration party for California's independence from Mexico. John R. and Susan had four daughters: Nellie, who died during infancy; Melinda ("Linnie"); Virginia ("Jennie"); and Frances ("Fannie").
Before his death in 1897, John R. Wolfskill divided his land amongst his children and his wife, leaving about 1,200 acres to his children and 1,000 acres to Susan.
Edward "Ned" Wolfskill and Family
Edward ("Ned") Wolfskill (1850-1939) attended private school at home along with other children in the neighborhood. In 1873, Ned was a member of the original board of directors and a cashier for the Bank of Dixon. He was made a life member of the State Agricultural Society around 1886 or 1887. Ned and Annie Bollinger Wolfskill had four children but one child died young. The surviving three children were Frank, John Reed, and Aldanita.
After Annie's death, Ned traveled around the world. He lived in the Philippine Islands from 1899 to 1911. Ned also worked as a storekeeper in the Quartermaster Corps in the War Department.
Ned and Annie's eldest son, Frank, married Myrtle Jane Cooper. Their second son, John Reed (generally known as Reed or Reid), married Ina Winn. They had a daughter named Annie Rowena. Reed died in 1927 and Ina remarried.
Aldanita, the youngest of Ned and Annie's children, received her education at the Irving Institute in San Francisco. Around 1900, she spent six years in Germany studying music at the Scharwenka and Stern Conservatories. In May 1913, Aldanita made her debut as a contralto opera singer in San Francisco with Madame Bernice de Pasquali, a Prima Donna Soprano of the New York Metropolitan Opera Company. In 1915, Aldanita sang at the opening ceremonies of the Panama-Pacific International Exposition in San Francisco. After the birth of her son, Edward, Aldanita decided to end her career on stage. She leased a part of the Wolfskill Grant from her father and started a new career as a farmer.
Aldanita's husband, Charles R. Detrick, was secretary to the California Railroad Commission from about 1900 to 1918. In 1925, Charles was elected as California's Insurance Commissioner. He served as the first vice-president for the commissioner's national organization in 1927 and in 1928 was elected to the presidency of the national organization. Charles' brother, Edington Detrick, Jr., was the collector of the Detrick family genealogy.
Melinda "Linnie" Wolfskill and Family
Melinda Tate ("Linnie") Wolfskill (1860-1929) was the oldest daughter of John R. and Susan Cooper Wolfskill. She married Henry Clay Goodyear in October 1880. Henry Clay Goodyear, a native of Benicia, California, had membership in the San Francisco Wheat Exchange for several years and also grew fruit. In 1899, business took him to the Philippine Islands. Linnie and Henry Goodyear had three children: John Murray Goodyear, Edward Andrew Goodyear, and Henry Clay Goodyear. Later, Linnie separated from Henry C. Goodyear and married Charles C. Councilman. Linnie and Charles had no children.
Virginia "Jennie" Wolfskill and Family
Virginia Lee ("Jennie") Wolfskill (1864-1935) was the second daughter of John R. and Susan Cooper Wolfskill. In 1883, Jennie married Franklin (generally known as Frank) J. Bonney, a well-known attorney in San Francisco.
Frances "Fannie" Wolfskill and Family
Frances Ann (Fannie) Wolfskill (1866-1934) was the youngest daughter of John R. and Susan Cooper Wolfskill. She married Colonel Samuel Taylor on September 4, 1889. Fannie and Samuel Taylor had four children: Bayard Taylor, Don L. Taylor, Frances Iris (generally known as Iris) Taylor, and Virginia Taylor. Fannie and her husband built the "Rancho 96" in Winters after an 1892 earthquake destroyed his father's house. After Colonel Taylor's death, Fannie married Lawrence H. Wilson.

John R. Wolfskill lived with Fannie and her family until his death. Upon John R.'s death, Fannie received about 1,000 acres of land. In 1936, she willed to the University of California, Davis, a portion of her estate for the creation of an experimental farm with the condition that the olive trees planted by her father be left as a memorial to him. She also stipulated that all of her heirs would have to be deceased before the university could take possession of the one hundred and eight acres. However, her heirs agreed in court to allow the university to take immediate possession of the property. The university tract became known as the Wolfskill Experimental Orchards and is currently used by the department of Pomology.

Sources:
Garrison, Myrtle. Romance and History of California Ranchos. San Francisco: Harr Wagner Publishing Company, 1935. pp. 165-166.

Hussey, John A. The Wolfskill Party in California. Thesis. Berkeley: University of California, Library Photographic Service, [1959]. 1 reel: positive; 35mm.

Larkey, Joann Leach. Winters: A Heritage of Horticulture, a Harmony of Purpose. Woodland: Yolo County Historical Society, 1991.

History of Solano County: Comprising an Account of its Geographical Position.... Fairfield, Ca: J. Stevenson Pub., 1994. pp. 59-60, 70.

Walters, Shipley with Tom Anderson. Knights Landing: the River, the Land, and the People. Woodland: Yolo Historical Society, 1992.
---
---
WOLFSKILL, MATHIUS, was born in Howard county, Mo., August 11, 1810, where he resided for forty years, when, on May 16, 1850, he with his family, left for California, and, enduring the hardships of a journey across the plains, arrived at the ranch of his brother, John R. Wolfskill, on Putah Creek, on September 3oth of that year, and resided on the banks of that stream until he moved to his present property in Suisun township , in the Fall of 1`866. His ranch comprises seven hundred acres. He married, September 1, 1831, Permelia Ashcroft, by whom he has two children alive, John, a resident of San Diego county, and Joseph C., who resides with his father.
From Munro-Fraser, J.P., 1879, The History of Solano County, Wood, Alley & Co., East Oakland, p. 429-430.
---
---
HON. J.C. WOLFSKILL
One of the most noteworthy ranches in California is that owned by J.C. Wolfskill. It is located near Manka Corners, Solano County, and consists of two-hundred and fifty acres, and was originally located by Mr. Wetmore, who sold it to the father of Mr. Wolfskill, from whom it descended to its present owner, The Wolfskill family was closely allied with the history of the County in the early days, there being five brothers who came west at different times and located in different parts of the state. The founder of this family, Joseph Wolfskill, was a Kentuckian. Of his five sons, William, the eldest, was born in 1796, and died in Los Angeles, California in 1856. The next in order of birth was John Reed, born in 1804; then came Mathus, born in Howard County, Mo., in 1810, and died at the home of his son, Joseph C., October 15th, 1891; Sarshel died in Solano County. Milton the youngest is the only one of the brothers now living, and is making his home in Los Angeles. To trace the career of these brothers is like reading an old romance. The two oldest, William and John R., were in New Mexico as early as 1829. In 1831, William came to San Bernadino County, where John R. joined him in 1838. John R. Wolfskill was the first white man to locate in Solano County. The brothers were also in Los Angeles County for a time, and there in 1842, William received a valuable land grant from the Spanish government, as the result of his marriage to a lady belonging to a prominent Spanish family. This land comprised fourteen thousand acres and was known as the Rancho de Los Putos, lying on either side of Putah Creek in northern Solano and Yolo counties. The widow of Sarshel Wolfskill is now living on this place.
Mathus Wolfskill first located near Winters, Solano County, crossing the plains with his family by ox team in 1850, and reaching his brother John's ranch on Putah Creek in October of that year. He later disposed of his holdings in 1865 to Theodore Winters, who subsequently established the town of Winters. In 1866 Mr. Wolfskill, came to Manka Corners, Suisun Valley, and bought the Wetmore ranch, which he at once set about improving. There were already some improvements in place, among them being a frame house which was framed in Boston, and brought around the Horn in sections, being set up after reaching the ranch. This house is still in a very good state of preservation and is at this time in use as a bunk house for the ranch hands on the place. Mr. Wolfskill stocked his ranch with cattle, sheep, horses and hogs, devoting a large part of the land to grain, which he raised in large quantities. Believing that the country was peculiarly adapted to fruit culture, he at once put his theories into practical effect by setting out a large variety of trees, among them being oranges, lemons, pears, plums, apricots, and in addition to these he put out olives, English walnuts, almonds, grapes, etc., all of which throve in due season yielding abundant crops. As time passed Mr. Wolfskill, redoubled his first efforts to reach a foremost place among the farmers and stock raisers of the state and lived to see his labors crowned with the highest success, acquiring considerable wealth, and at one time had large land interests, but sold of his land except for the original homestead. His wife was before her marriage, Miss Permelia Ashcraft. She was born February 10th, 1810, and died January 21st, 1876. Four children were born of this union, John, now a capitalist of Los Angeles; Amanda and Sarah, both deceased, and Joseph C., the subject of this article. Mathus Wolfskill died on his ranch October 1891.
Joseph C. Wolfskill was born in Howard County, Mo., November 23rd, 1843, and was a mere lad when he crossed the plains with his parents. His education and training were received in California, and after completing his studies he retuned home and assisted his father,. Having a fondness for outdoor life, in his youth he acquired a reputation as a rider, just as years before his and uncles had been noted hunters and trappers. After the death of his father he inherited the family homestead, to which he has added other land, having about seven hundred acres in all at this time, and has built a handsome and modern farm house, with a wide veranda on three sides, and large airy rooms. The grounds are enhanced by oak and other trees, and altogether is one of the ideal homes of California. Mr. Wolfskill inherited his father's tastes and ideas regarding farming, and has continued upon much the same lines, meeting with uniform success in raising fruit; and as it requires no irrigation the fruit is of a most excellent flavor and richness. Bartlett pears are especially successful here, and Mr. Wolfskill has one English walnut tree about three feet thick, set out in 1867, which yields an average of two hundred and fifty pounds of nuts each season. The success of the Wolfskills has encouraged many others in the valley to emulate their example, and today this one of the most productive sections to be found in Northern California. Mr. Wolfskill has also kept up the stock busi8ness, raising a large number of draft horses as well as roadsters and in sheep has some fine thoroughbred Shropshires.
In 1889, Mr. Wolfskill married Mary, daughter of Alexander Blake. Mr. Blake was born in Green Brier County, Va., October 15th, 1827, and after living for some years in Illinois, Indiana, Iowa and Michigan, crossed the plains by ox team in 1850, locating at Hangtown, now known as Placerville, Ca., where he followed mining for a time. He then took up land where F. Chadbourn now lives in Solano County. He was very successful as a stock raiser and retired from active life in 1895. He married Virginia Brown, a native of Missouri, who is still living, and their children are John, Mary, and Joseph. One daughter Maggie is deceased. The children of Mr. and Mrs. Wolfskill are named as follows: Mathus Reed, Jarena Lorraine, and Clarence C., all of whom were born on the old homestead. Politically Mr. Wolfskill is a Democrat, and has always taken considerable interest in local politics, serving one term in 1891, as a member of the legislature. From his long residence in the state he is widely known and highly esteemed.
From Guinn, James Miller, 1904, History of the State of California and biographical record of coast counties, California: an historical story of the state's marvelous growth from its earliest settlement to the present time ... Also containing biographies of well-known citizens of the past and present, Chapman Pub. Co., Chicago, p. 736.
---
From the Sacramento Daily Union, v. 2, n. 38, February 8, 1891, p. 9.
J. C. WOLFSKILL.
Assemblyman From the Twenty-Ninth District, Solano County.
Mr. Wolfskill was born in Howard County, Missouri, in 1843. He came to California in 1850 and located on Putah Creek, Solano County, near the present town of Winters, in l852-53. During the summer seasons he improved the opportunity to attend the public schools and store his mind with knowledge. Like most pioneer youths, he had to labor hard,and thus the more appreciated the advantages of education and the true worth of labor, ln September, 1853, he went to Los Angeles and attended a private school conducted by his uncle, and remained there until the year 1858, when he returned to Solano County,and was in his old home until early in 1865. His father then sold the farm to Theodore Winters, the well-known stock-raiser, and the family went down to Los Angeles. In 1866 Mr. Wolfskill returned once more to Solano and purchased valuable land in Suisun Valley, where he has since maintained his home and prosecuted the cultivation of tbe soil. Mr. Wolfskill has not before filled any public office. His ambitions have not been in that direction, but he has taken a reasonably active part in the councils of the Democratic party, and has served it upon its Central Committees for some fifteen years. He has also been a delegate to nearly all the State Conventions of that party that have been held since he was old enough to take political action. He was also honored with a seat in tho Democratic National Convention of 1872, which placed Horace Greeley In nomination for the Presidency. His wife is a Native Daughter of the Golden West, and they have one child. Mr. Wolfskill's uncle was the first white man to settle in Solano County, and the Assemblyman's father is still living and a resident of the State. Mr. Wolfskill is one of the best informed farmers in the State. He is a man of practical knowledge, liberal views, sincere devotion to his adopted State, and enjoys the respect and esteem of his entire community. As a legislator he is diligent, watchful and conscientious, and his judgment commands attention and respect from his fellow members.
[Representative from the 27th District (Solano), he served during the 29th session (1891-1893).]
---
From the Sacramento Bee
(and reprinted in the Vacaville Reporter, October 2, 1914, p. 1)
J.C. WOLFSKILL DEAD
Was One of the Best Known Pioneers of the County
Hon. Joseph Cooper Wolfskill, one of the best known pioneer residents of this county, and widely known among the pioneers throughout the state, died at this home in Suisun valley last Monday, following an illness covering a period of a year and caused by an abscess of the throat.
Wolfskill was born in Howard county, Missouri, November 23, 1843, and at his death was nearly 71 years of age. He was 7 years old when his parents Mathius and Permelia Wolfskill, crossed the plains with an ox team in 1850, and settled on a ranch on Putah Creek, near Winters, in October of that year.
In 1866 the family removed to Suisun valley and settled on the old Wetmore ranch, which has been their home ever since, Joseph inheriting the old homestead at the death of his father in 1891. The place is one of the most historic in this part of the state, being natural beauty spot.
In 1889 the deceased was married to Miss Mary Blake, a native of Virginia, who migrated to this state in 1850. Besides his widow, he is survived by two sons and a daughter, namely Matthius, Clarence and Jarena Loraine Wolfskill.
Wolfskill in politics was a staunch Democrat, and always took an active part in the councils of that party. While ever in the front ranks of party politics, he held office only once, having served in the state assembly during the session of 1892.
The name Wolfskill is identified with the earliest settlement of this state. Two uncles of the deceased, John R. Wolfskill and William Wolfskill, settled in San Bernadino county as early as 1829. John R. was the first white man to settle in Solano county, near Winters, in the early 40's, having inherited a valuable grant of land from the Spanish government though his marriage to a woman belonging to a wealthy Spanish family. Some of this land is still occupied by his descendants.
---
From "Passing of the California Pioneer", The Grissly Bear, Native Sons of the Golden West, v. 26, n. 1 (November 1914), p. 22.
Colonel Joseph C. Wolfskill, who crossed the plains to California with his parents in 1850, died September 28th, near Suisun. The family first settled on Putah Creek, near Winters, but in 1886 took up their permanent residence in Suisun Valley. In 1889, deceased was wedded to Miss Mary Blake, daughter of Alexander Blake, a pioneer of 1850, who, with three children, survives. Wolfskill was a native of Missouri, aged nearly 71 years, and at one time was a member of the California Legislature. The name ''Wolfskill'' is identified with the earliest settlement of California. Joseph Wolfskill, a Kentuckian, was the founder of the family. He left five sons, as follows, who located in California: William Wolfskill, located in San Bernardino in 1831, died in Los Angeles 1886; John Reed Wolfskill, located in San Bernardino in 1838, died at Winters in 1897; Milton Wolfskill, located in Winters in 1849, died in Los Angeles in 1909; Sarshel C. Wolfskill, located in Winters in 1850, died in Winters 1887; Mathius Wolfskill (deceased's father), located near Winters 1850, died in Suisun, 1891.
---
---
A Story About Judge Wolfskill
Originally from Vacaville Magazine,
and available on the Solano Community Foundation website.
Donors Making a Difference helping nonprofits
by Andrea E. Garcia
There's a plot at Rockville Cemetery, where four large slabs of smooth concrete lie peacefully near the paved road, and where the story of Leslie Anderson, whose name is on one of the slabs, remains alive.
Born in 1894, raised in Green Valley, and married to Virginia May, Anderson ran about 1500 head of steer in the feedlot on Morrison Lane. Locals say he even owned more cattle that grazed on Anderson Hills - the stretch of land owned by the rancher that ran from Suisun Valley to Green Valley, north of Rockville Hills Park.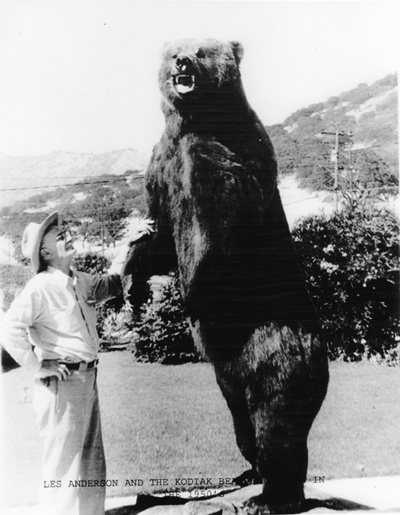 Anderson was known as a western guy to those around him, standing slightly over 6-feet-tall, donning a Stetson and packing a pistol in the likelihood of spotting a rattlesnake. But he was a hunter at heart, even killed an Alaska Kodiak bear in 1958 - an 11-foot behemoth that stood mightily on his living room floor until the day the Andersons passed away. Some folks say that Anderson had his house remodeled to accommodate the bear's height.
No doubt, this enormous trophy was cause for celebration, which he did with more than two dozen men at Rockville Corners Restaurant, now called Rockville Inn.
And it's here, in this pub, where Anderson was a frequent patron, drinking Black and White scotch and shooting dice with his good friend Clarence "Judge" Wolfskill, the man who now occupies one of the spaces next to him.
"Les and Judge were here (at Rockville), shaking dice, when they said, 'We gotta buy plots at Rockville Cemetery.' So they shook dice for the plots and all the cement work around it for both Les, Judge and their wives. Dad won and Les had to pay for everything. Everything. My dad was lucky," recalled Dolores Russell, Wolfskill's daughter, while sitting inside the very bar where the wager was made.
Russell, a spunky woman in her 70s with hair as white as the pearls around her neck, was one of three couples inside the tavern on this early Friday evening, a ritual they've kept up for decades. All knew of Anderson and some, like Ken Kinnaman, could tell a story of the man like it just happened yesterday.
"Judge was bugging Les one day while they were in the bar, and Judge kept telling Les that they had to go, they were late," Kinnaman remembered. "Well, Les walks out, gets into his Chrysler Imperial, pulls out his pistol, walks back in and shoots the hands off the clock. I guess they weren't late anymore."
[The article continues with a different emphasis.]
But Les was more than a rancher. For many, he was a generous man, a philanthropist during his time, and basically, a "hell of a nice guy," as Kinnaman remarked fondly.

"I had 40 acres of land during the 1950s and was a part-time farmer raising hay and grain in the Suisun Valley area," Kinnaman recalled. "We knew my crop wasn't good but Les asked me to bring it to his feedlot. He took a fast look at it and told me I had more weeds than grain, but he still gave me market price. He knew I was struggling."

Bob Dittmer, an 88-year-old resident of Green Valley, whose grandfather purchased the land in 1881 that Dittmer lives now on, also remembers Anderson as being a charitable man.

"I remember when I was 7 or 8 years old, about 1928, that Curt Mason, Les and my father, Fred (Dittmer), started the Cordelia Fire Department," he said. "They collected money from every rancher in the area, Suisun and Cordelia, and with that money, they bought their first fire truck. Les designed that truck, making it into a fire truck."

Anderson, a decorated World War I veteran, and his wife lived in Green Valley until their deaths in 1975 and 1989, respectively. In 1969, however, this childless couple established a charitable trust in their estate plan and by 1989, the trust was endowed with nearly $500,000.

The Leslie and Virginia May Anderson Trust, then overseen by Jim Droast of Anderson, Smith, Droast and Connelly, required the trustee to place flowers on their gravesite three times a year. Jim's wife, 83-year-old Alice Droast, today remembers the many trips to Rockville Cemetery with her husband as they fulfilled their obligations, never once missing an occasion.

"The Andersons wanted flowers placed on their site every Easter, Memorial Day and Christmas. And we did it," she said.

By 1996, after Jim Droast passed away and the firm name changed to Anderson & Associates (no relation to Les or Virginia May Anderson), the trusteeship was transferred to Vacaville resident Becky Gardiner, a partner of the CPA firm.

Gardiner, wanting to preserve Anderson's philanthropic ideals, approached her partners in 2002 and suggested the firm open a fund at Solano Community Foundation with the fees collected from the trusteeship. All agreed.

"The Leslie and Virginia May Anderson Fund was created for charitable purposes and I didn't want any of it. It's for charity," Gardiner said.

Teresa Fitzgerald, a partner at the Vacaville location of Anderson & Association, agreed.

"I think that when you work and live in a community, you have a responsibility to give back whenever you can," said Fitzgerald. "This was a way to give back to the community and I respect Solano Community Foundation a great deal. It's our responsibility."

The Anderson & Associates CPA Endowment Fund started making grants in 2006 and to date, has granted almost $5,000 to local nonprofits.

In 2007, Anderson & Associates decided to transfer the Leslie and Virginia May Anderson Trusteeship and assets of the fund to Solano Community Foundation, which by then had grown to $2.3 million.

Since Virginia May's death in 1989, the Anderson Fund has generated more than $2 million in grants, with funds going to local nonprofits such as Vacaville's NorthBay Healthcare and the Elks Lodge of Vacaville and Fairfield.

It's Anderson's way of continuing his legacy and fulfilling a commitment to the community, now and in perpetuity.
You'll still find fresh flowers at the Anderson gravesite three times a year, as requested by the couple [Leslie and Virginia May Anderson], placed either by Gardiner or a member of Solano Community Foundation.
And as for the enormous bear that Anderson shot, well, Alice Droast says she knows what happened to the beast.
"I was at the auction when they sold that bear," she said. "That was a huge bear and someone actually bought it."
---
---
INDEX to individuals listed in Toombs & Hassler Family Newspaper Articles