Morgan Territory Regional Park
Bedrock Mortar Sites
(Contra Costa County)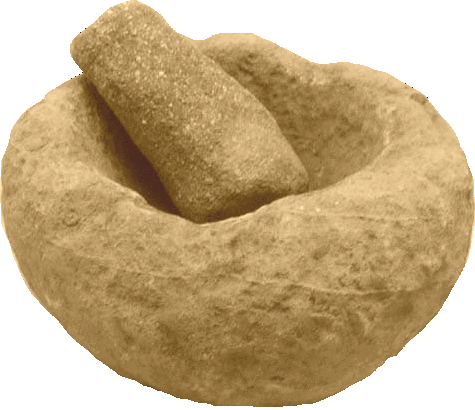 T

he main parking lot (road staging area) for the park is at 9401 Morgan Territory Road in Livermore. It is best to phone them at (916) 774-5934, or go to their website for information on fees and hours. There are several bedrock mortar sites in the park that were made by the Volvon Bay Miwok, who held the summit and east side of Mount Diablo, which is the most prominant summit in the San Francisco Bay Area. There are hundreds of bedrock mortars here, as well as house pits and rock walls. To find some of them head northeast for about 1,000 ft on the Volvon Trail, then southeast for another 500 feet to a point where the trail makes a sharp turn back to the left. Leave the trail at this point and continue towards the southweast along the draninage of Mallory Creek, and bedrock mortars and house pits will begin to appear. More information on their locations can be found on the Bay Area Native Sites website.

Photographs from the Morgan Territory Village Site
(and adjacent Mt. Diablo State Park)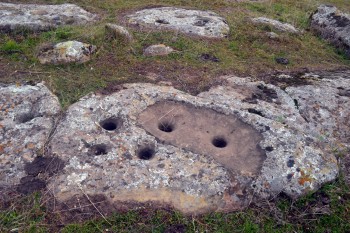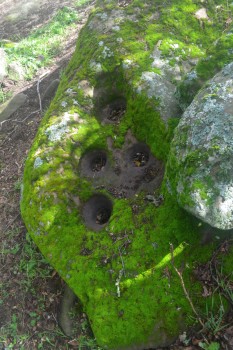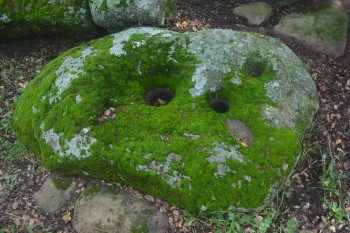 Bedrock mortars on isolated boulders at the site. The mortars in the left image are superimposed on a leaching basin.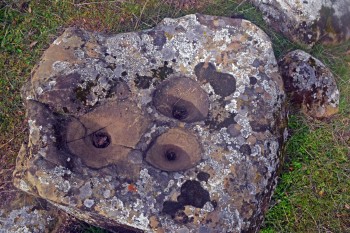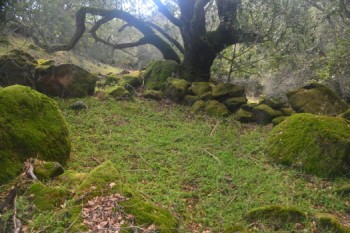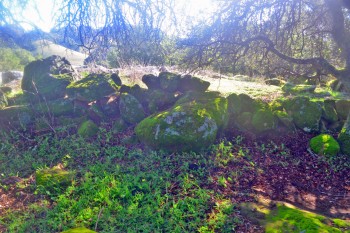 The left image shows three mortars, in which the bowls are oxidized red by tannic acids released during grinding of acorns. A house site is shown in the middle, with a rock wall on one side of the site, and a lone rock wall is shown on the right.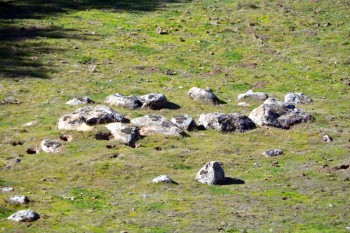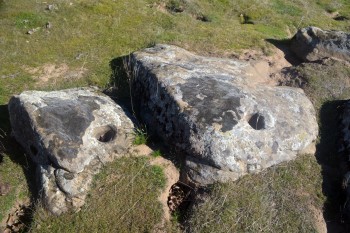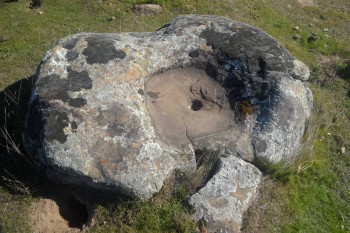 The left photo shows a circle of large stones that surround a filled-in house pit, and shown on the center and right are bedrock mortars in two of the stones surrounding the house site. The mortar hole in the left-most stone is superimposed on an acorn leaching basin.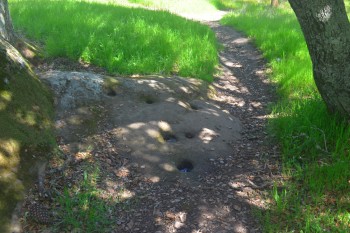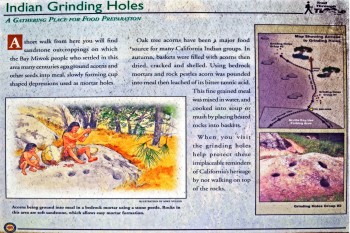 The Volvon people also controlled the summit of Mt. Diablo, and one of their food-gathering camps is located at the Rock City picnic area in Mt. Diablo State Park on the west side of the summit, which is a few miles from the main Volvon village at Morgan Territory Regional Park.
Return to Archaeological Sites
| | |
| --- | --- |
| | Copyright © 1998- - Carty Brothers, Inc. |