Wind Wolves Wildlands Preserve
Bedrock Mortar Sites
(Kern County)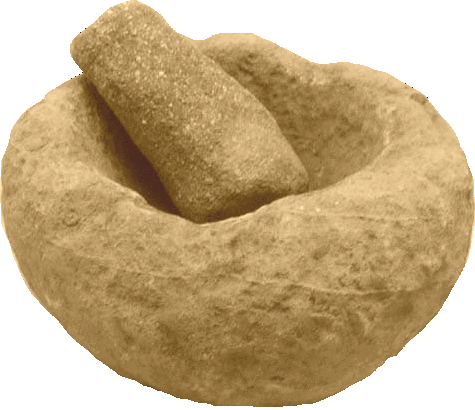 A

n access road that leads into the park is located on the south side of the Maricopa Highway (CA-166) about 1.85 miles west of the intersection of Old River Road with the Highway. This access road then leads 4.6 miles to the south to the park visitors center, and another mile from there trailhead parking is available. Sometimes a shuttle is available that will shorten some of the hiking distances. It is best to phone the park at (661) 858-1115, or go to their website for information on fees, hours, and the shuttle schedule. A hike of about one mile from the trailhead leads to the site of the ancient village of Tashlipun at the Twin Fawns area, which was held by a tribelet of the Emigdiano Chumash, but not much survives here now. A total hike of about 4 miles leads to a food-gathering site at the Reflection Pond area, where at the end of the trail there are more than 80 bedrock mortars, as well as an ancient rock wall, and a grooved stone. Hidden among rock outcrops in the area are sandstone caves containing pictographs that require docent-led hikes to visit.

Photographs from the Wind Wolves Preserve
Views of the more than 75 bedrock mortars at the Reflection Pond site. The lower right photograph shows the actual pond, which was once the site of a food-gathering camp. It requires a hike of about 3 miles from the main village of Tashlipun, at the modern Three Fawns picnic area, to reach this camp. There was water in the pond in the old days, but today it is mostly a meadow.

More things to see at the Reflection Pond site. A grooved stone for sharpening sticks is shown on the left, a rock wall that was used as a wind break is in the center, and shown on the right is an acorn leaching basin. Note how the right side of the basin is an outlet for water to drain out, after the water has been poured through an acorn mash to leach out the bitter tannins. Also note how acids in the tannins have oxidized the basin to give it a reddish color.

There are other bedrock mortar sites in the Wind Wolves Preserve. The left and center photos show a set of three mortars at the base of the San Emigdio Canyon overlook, and the far right shows a selection of stone mortar bowls from Wind Wolves that the staff uses for demonstrations to youth groups.

There are also bedrocks mortars in a much more remote area of the Wind Wolves Preserve at the Three Springs site. Here there are at least 27 mortars in three isolated rocks. The far right photo shows an archaeological dig at a prayer circle that sits on the ridge high above the mortars. There are also pictographs in this area.
Return to Archaeological Sites
| | |
| --- | --- |
| | Copyright &copy 1998- - Carty Brothers, Inc. |