Old Suisun Valley Fruit Box Labels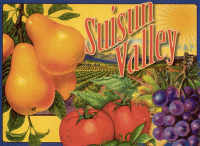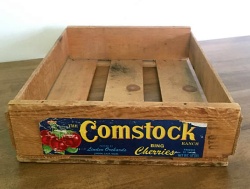 Fruit trees, especially those for Bartlett Pears, and to a lesser extent Bing Cherries, were the main crop grown in the Suisun Valley from the late 1880s to the early 1970s when wine grape vineyards began appearing. This was before cardboard boxes were widely used, and fruit packing houses, like the Suisun Valley Fruit Growers Association, would ship their produce in wooden boxes, with labels glued on the ends to identify where the fruit came from. Many of these labels were quite colorful, and they represent a fascinating part of the local history. Shown below are some historic labels from Suisun Valley, and the neighboring Vacaville and Rio Vista areas. Clicking on any of these labels should bring up a more detailed view.
The first three labels shown above are from the Suisun Valley Fruit Growers Association, which is the main organization representing farmers in the valley today.

The Robbins and Lambert families, whose box labels are shown above, were neighbors at one time of Bella Vista Ranch.

Above are labels for Bartlett Pear boxes from the Danielson Ranch, and a selection of Cherry box labels from some of the local family orchards.

Above are four box labels from some of the other old pear orchards in the Suisun Valley.

Above are some box labels from areas near Suisun Valley. Grizzly Island and parts of Rio Vista are especially known for their Asparagus.